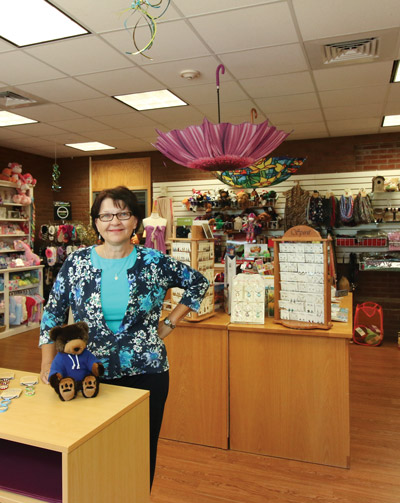 The Cherry Wheel Gift Shop is owned and operated by the Northeastern Vermont Regional Hospital Auxiliary. All proceeds from the sale of merchandise after expenses is used to support the hospital and its patients. The Cherry Wheel Gift Shop is a separate unit of the NVRH Auxiliary.  The gift shop is staffed by NVRH volunteers; there are no paid employees.
The Cherry Wheel Gift Shop offers a large collection of gifts at very reasonable prices.  In these days of large box stores, it is wonderful to have a small gift shop to locate those unique gifts for every occasion. We offer a collection of greeting cards, stuffed animals, puzzle books, and candy. We have jigsaw puzzles, electronic games, games for children, NVRH logo clothing, as well as shawls and shoulder wraps.
We sell Silver Forest and Spirit jewelry, Silver Deer jewelry, Naked Bee lotions, Poo-pourri, Solemate socks, White Mountain Puzzles, Snoozies, Breathe-Me naturals and Skida hats, . All of these products are made in the USA or Vermont.
We have a large selection of baby gifts, seasonal decorations, specialty coffee mugs, and sports memorabilia.  The shop also carries many over the counter medications from aspirin to zyrtec (generic).
If you are interested in placing an order over the phone, please call 802-745-6424 and one of our volunteers will assist you with an in-patient delivery.  We accept cash, credit cards, and payroll deduction for NVRH employees. Please note that we do not sell flowers, if you would like to order flowers for delivery, please follow the attached link: coming soon!
Please stop by the Cherry Wheel Gift Shop when you are at NVRH.  Thank you for your support. Cash, checks, or payroll deduction for NVRH employees accepted.  Monday – Friday 10 a.m. – 4 p.m.
Looking for more info?
Please call Pat Forest, Director of Volunteer Services, at 802-748-7310.