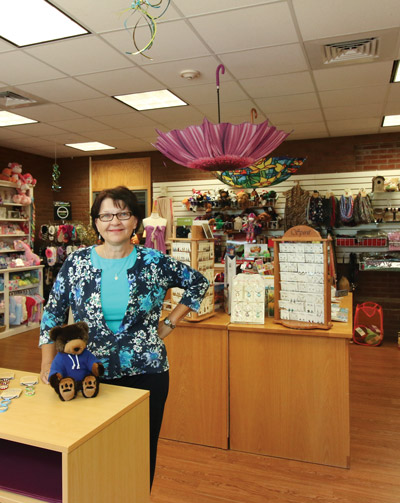 The Cherry Wheel Gift Shop is owned and operated by the Northeastern Vermont Regional Hospital Auxiliary.  All proceeds from the sale of merchandise after expenses is used to support the hospital and its patients.
The Cherry Wheel Gift Shop is a separate unit of the NVRH Auxiliary.  The gift shop is staffed by NVRH volunteers; there are no paid employees.  
The Cherry Wheel Gift Shop offers a large collection of gifts at very reasonable prices.  In these days of large box stores, it is wonderful to have a small gift shop to locate those unique gifts for every occasion.
We offer a collection of greeting cards, stuffed animals, puzzle books, and candy. We have jigsaw puzzles, electronic games, and games for children, clothing items including Skida hats, hats for cancer patients, shawls and shoulder wraps. 
We sell Silver Forest jewelry, Naked Bee lotions, Snoozies, Breathe-Me naturals and aroma home wraps. All of these products are made in the USA or Vermont.
We have a large selection of seasonal decorations, specialty coffee mugs, and sports memorabilia.  The shop also carries many over the counter medications from aspirin to zyrtec (generic).
Please stop by the Cherry Wheel Gift Shop when you are at NVRH.  Thank you for your support. Cash, checks, or payroll deduction for NVRH exmployees accepted.  Monday – Friday 10 a.m. – 4 p.m.
Looking for more info?
Please call Pat Forest, Director of Volunteer Services at 802-748-7310.