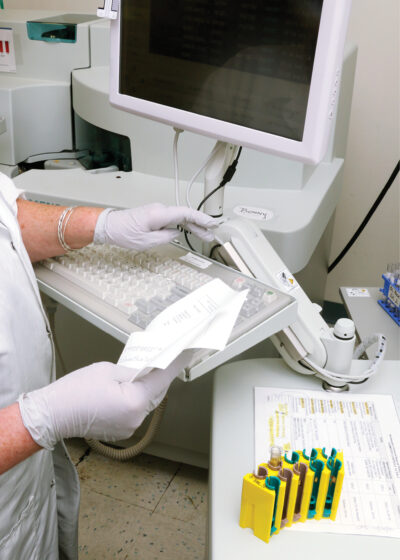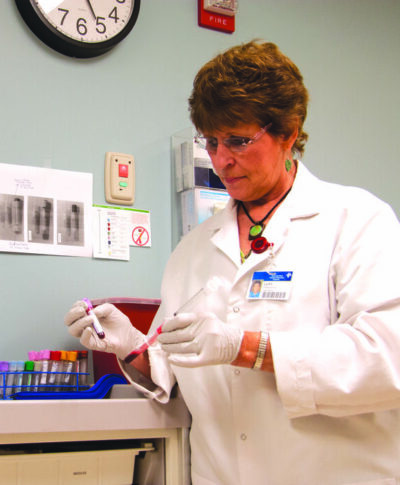 The Laboratory Department, under the clinical supervision of the pathologist, serves patients with state-of-the-art test equipment.
Tests done in the Laboratory enable a provider to confirm a clinical impression, establish or rule out a diagnosis, monitor therapy, establish a prognosis, and screen for or detect disease. 95% of laboratory tests are performed right here at NVRH. Tests not performed at NVRH are sent to the University of Vermont Medical Center or to the Mayo Clinic Laboratories.
Please note that Laboratory Services does not release test results to patients. If you would like to access your results, please contact your physician or visit the Patient Portal.
Services
Chemistry – examples include determining blood sugar and cholesterol levels

Hematology – for the diagnosis of anemia or infection

Microbiology – provide information about infections and treatment options

Blood bank – for determining compatibility of blood for transfusion
Walk-Ins Welcome | Appointments Preferred
We welcome walk-ins. However, we may have to ask you to wait. If you don't have the time to wait, we encourage you to call us and make an appointment ahead of time.
Location
For easy and direct access to NVRH laboratory services, park in the lower parking lot off of Sherman Drive and use the entrance at the west end of the hospital.
Gregory Rubin Reynolds Building
1315 Hospital Drive
St. Johnsbury, VT 05819
Hours
Monday through Friday, 7 a.m. – 5 p.m.. 
Northeastern Vermont Regional Hospital © 2020