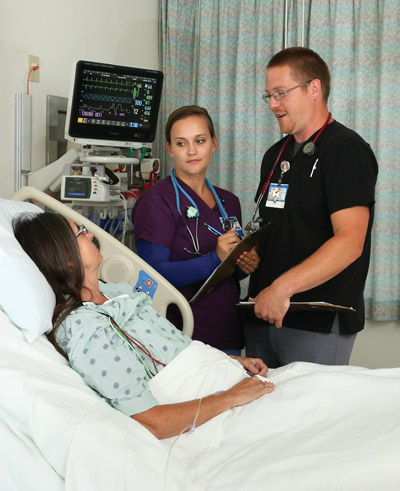 Enhancing the Healing Process
The NVRH Intensive Care Unit is staffed with dedicated and compassionate nurses. We strive to provide an environment which enhances healing and health by treating our patients, their families, and significant others with the highest quality of care.
If you are Visiting
To meet the needs of both the patient and visitors, please:
Check with nursing staff beforehand

Visit between 8 a.m. and 8 p.m., as this helps ensure adequate rest for the patient

Keep the visit to around 15 ‒ 30 minutes

Limit visitors to immediate family, spouse, parents, children, and siblings

Limit visitors to two at a time
Spiritual Needs
We have 24 hour chaplaincy services. Ask any ICU nurse to contact the NVRH chaplain, or a clergy member of your choice.
Location
Gregory Rubin Reynolds Building
1315 Hospital Drive
St. Johnsbury, VT 05819
Contact
Intensive Care Unit
To respect the privacy and confidentiality of all our patients, we cannot provide information over the phone without direct permission from the patient. People designated by the patient to receive information may call the ICU nurses station. When possible, please designate one person to be the information source for other family members and friends.
ICU Nurses Station: 802-748-7374 or 802-748-7377