NVRH Honors Providers and Supports Local Nonprofits
ST. JOHNSBURY, VT (June 15, 2022) – In honor of the quality care and compassion of its providers, Northeastern Vermont Regional Hospital (NVRH) is donating $500 to H.O.P.E. and $500 to Umbrella, inc. NVRH, which decided to donate the funds as part of National Doctors' Day, is proud to support local nonprofits and their missions to improve the lives of their community members.
"As providers, we know that health extends beyond the body," NVRH neurologist and President of Medical Staff Dr. Amanda VanStraten said. "There are so many other factors that contribute to health, and we are happy that we can help our community outside of the exam room."
H.O.P.E. is a private, nonprofit agency that helps families and individuals with life's basic needs. H.O.P.E is not affiliated with any religious organization or agency, and to fund its mission, operates a thrift store in Lyndonville.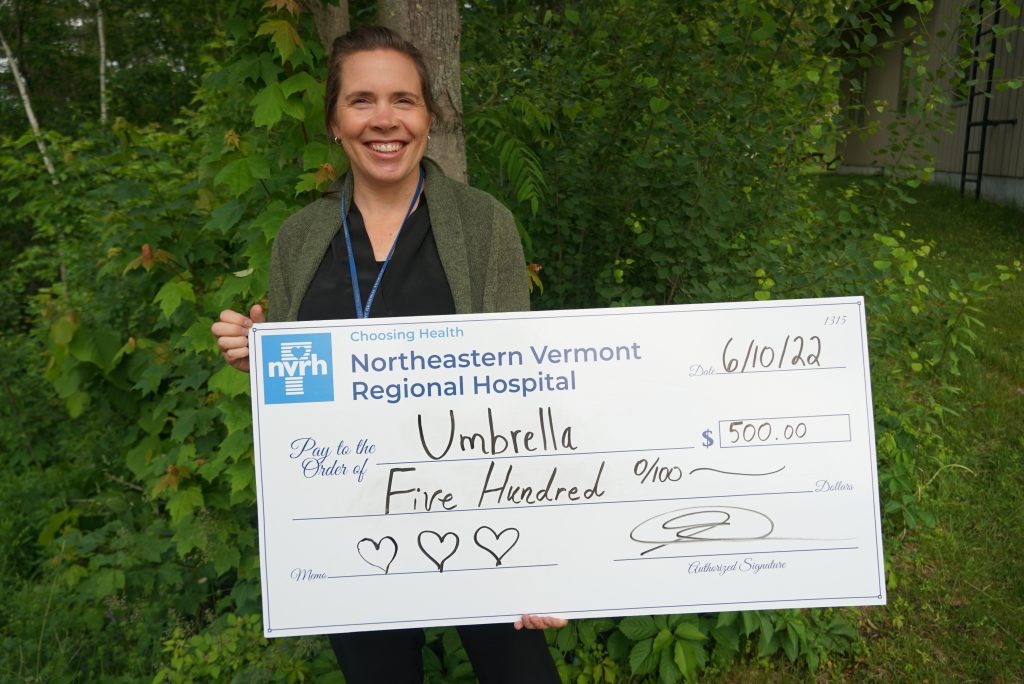 Umbrella's mission is to cultivate a Northeast Kingdom where all people thrive free from abuse and oppression. Umbrella has been elevating the voices of women, families, and survivors of interpersonal violence since 1976. In 2020 Umbrella began to include prevention of substance misuse into its gender-violence prevention programming in recognition of the deep connection between these two community challenges.
For individuals looking to establish care with an NVRH primary or specialty provider, they may visit nvrh.org/nvrh-providers for more information.
Northeastern Vermont Regional Hospital © 2020