Shawn Tester & Michael Rousse: Please Wear a Mask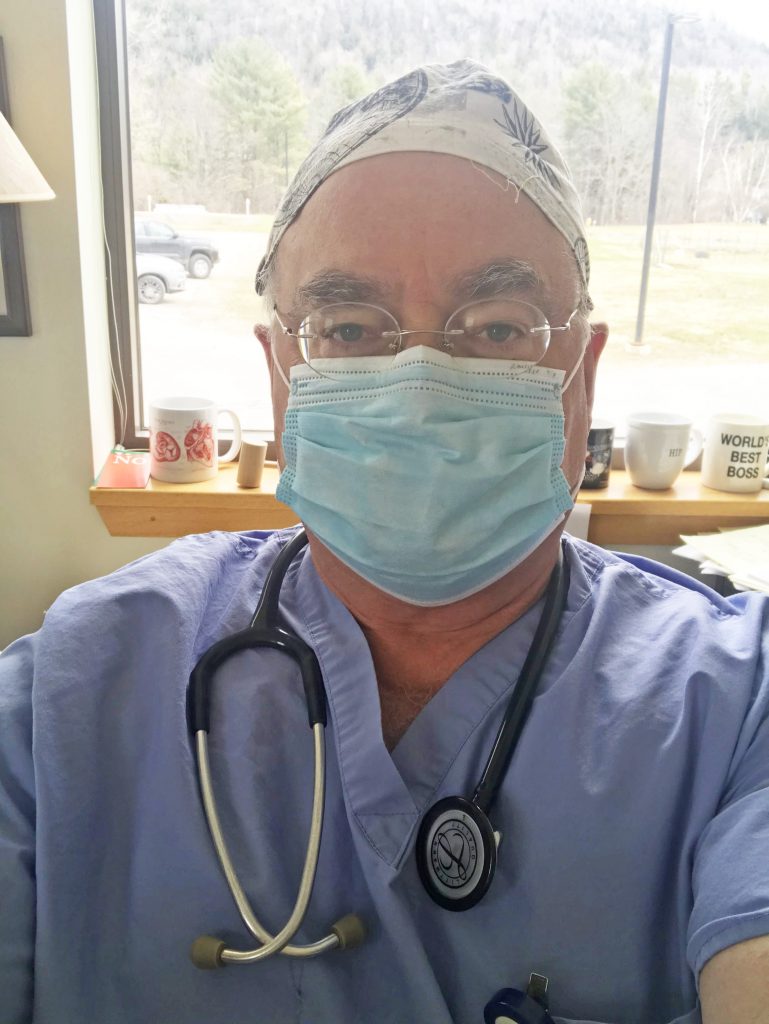 Like all of you, those of us working in healthcare have scrambled to change our behavior and modify our procedures as information about the coronavirus has evolved.
Especially confusing was the information about wearing a mask.  Initially we were told we didn't need to wear a mask, doing so might make the mask shortage for essential workers worse, and it wouldn't make much of a difference in stopping the spread of COVID19 anyway.
As our knowledge of the virus and mask supplies increased, we learned that masks can make a difference.  As more research came in from around the world, we learned that people can carry the virus for over a week before having symptoms, and some people never show the classic flu like symptoms at all.  Public health experts did a complete "about-face" and made mask wearing a recommendation.
Wearing a mask can protect you if you come in contact with someone who has COVID19 but has no symptoms. And if you are one of those people who have it and don't know it because you have no symptoms, wearing a mask can protect those who come in contact with you.
Dr. Ryan Sexton is in charge of the Emergency Room at NVRH. He spends his clinical day with a heavy face mask – called an N-95 – goggles, a gown, head covering, and gloves.  He wears this protective gear because he never knows when he may see a patient who has the virus or may have been exposed to the virus. He wears it to protect patients and to protect himself from infection. The protective gear is hot; his scrubs frequently are soaked with sweat and he has to change them. He washes his hands constantly and uses hand sanitizer all of the time going in and out of rooms.
Dr. Sexton is the person who will intubate patients who can't breathe and shock their hearts when they stop beating.  He's saving lives as a matter of routine.  When he leaves his workplace and goes to the grocery store or coffee shop, he wears a mask.
When Dr. Sexton sees other people not wearing a mask he gets upset. He, like other healthcare workers are working hard to keep people healthy, only to see measures being ignored that can easily help control this terrible pandemic that is raging out of control in much of the country.
The surge in cases across the US was avoidable. There are things we all can do to prevent the spread of COVID19. Limiting contact with people is the best way to prevent getting the virus.  When you have to be around people – at work, running errands, connecting with friends and family – basic protective methods work to reduce your risk of getting or spreading the virus.  Keep your physical distance, 6 feet is the current recommendation, wash your hands often, and wear a mask.
The community support for healthcare workers has been awe-inspiring.  Donations of food, thank you cards, clothing, all the colorful homemade masks, and more has brighten our work days and nights.   We are so fortunate to live in a region where people care for each other and show their support in visible ways.  The hearts hung from the trees outside the hospital literally brought tears to our eyes.  Your support has truly made a difference to all of us who work at NVRH.  Your support continues to lift us up.
There is one more thing you can do. For your health and safety and the health and safety of others, please wear a mask.  Keep it clean, and make sure it fits snuggly and covers your nose and mouth.  We have information about where to get a mask and when and how to wear one at nvrh.org.  With kids going back to school in the fall, now is a good time to be a role model for mask wearing.
We all want to get back to normal.  Our personal behavior makes a difference.  If we practice protective measures like wearing a mask, many of our normal activities like social gatherings, kids back in the classrooms, stopping for coffee or a bit to eat can be resumed safely even while the virus in still here in our communities.
We are all in this together and with your support we will get through this.
Northeastern Vermont Regional Hospital © 2020