New Art Exhibit Opens at NVRH Gray Gallery: "Vermont Scroller"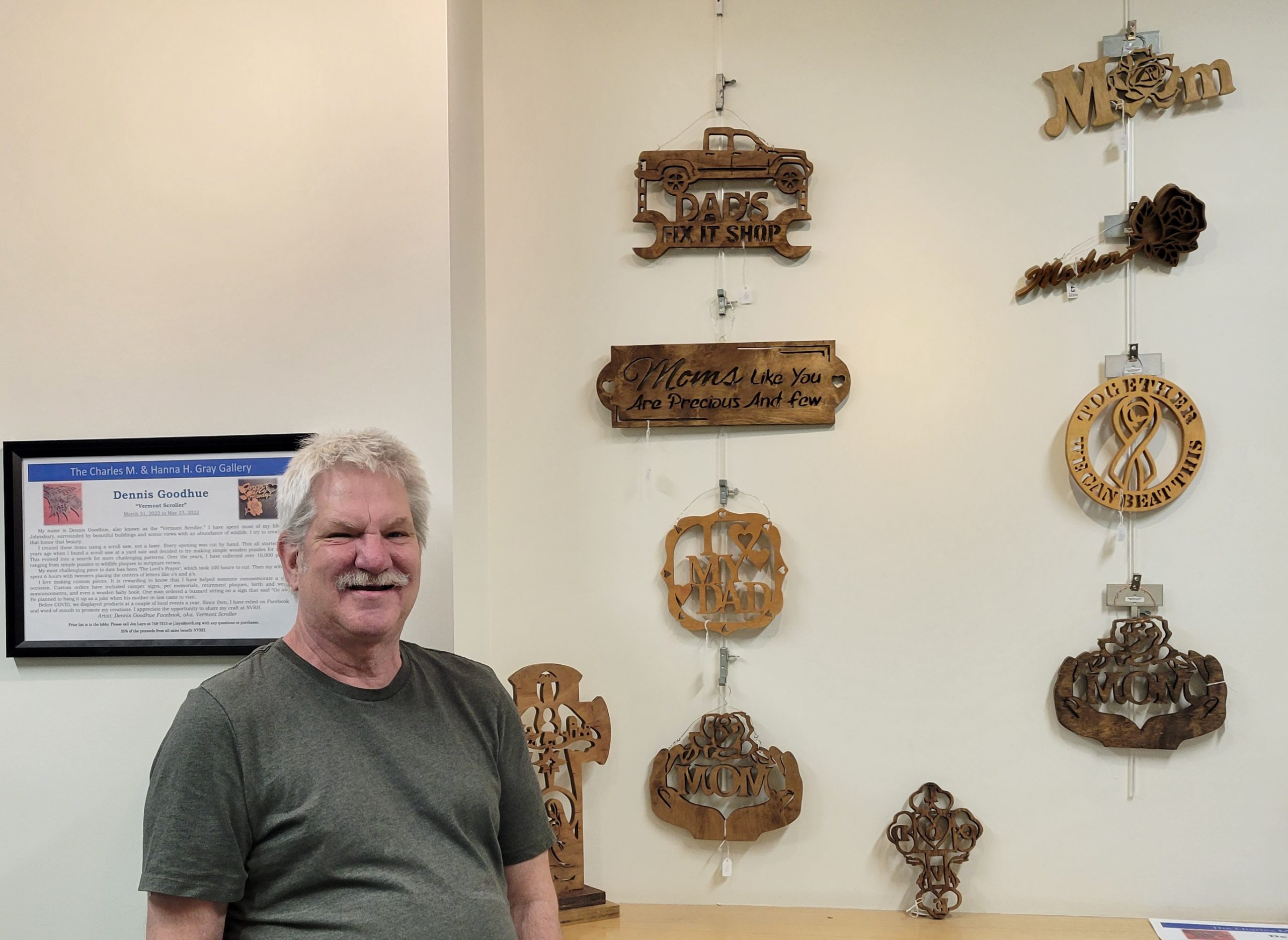 The Charles M. and Hanna H. Gray Gallery at Northeastern Vermont Regional Hospital (NVRH) is pleased to announce a new display by local artist Dennis Goodhue. The exhibit, which opened Thursday, March 31, will run until May 23, 2022.
Goodhue has spent most of his life in St. Johnsbury, surrounded by beautiful buildings and scenic views with an abundance of wildlife, which are the inspiration for his art pieces to "honor their beauty." Goodhue uses a scroll saw for his work and every opening is cut by hand. Starting with creating simple wooden puzzles for children with a scroll saw found at a yard sale several years ago, he has since expanded his work to include plaques and scripture verses. One piece of note is "The Lord's Prayer" which took 100 hours to cut and another 6 hours of precise work with tweezers to place the centers of letters, like o's and a's.
"I love making custom pieces. It is rewarding to know that I have helped someone commemorate a special occasion. I appreciate the opportunity to share my craft at NVRH," shared Goodhue.
The Charles M. and Hanna H. Gray Gallery is located on the hospital's main floor. The exhibit will be on display until May 23, 2022. Due to COVID-19, please visit the exhibit in person only when you have a healthcare appointment at the hospital. You may also view a short video of the exhibit on the Charles M. and Hanna H. Gray Gallery webpage at bit.ly/NVRHGrayGallery.
All exhibited art is for sale and a portion of the proceeds benefit the NVRH Art's program. For more information, please contact Associate Director of Philanthropy and Art Gallery Curator Jennifer Layn at j.layn@nvrh.org or 802-748-7313.
Northeastern Vermont Regional Hospital © 2020