NVRH Invites Community to Celebrate National Volunteer Week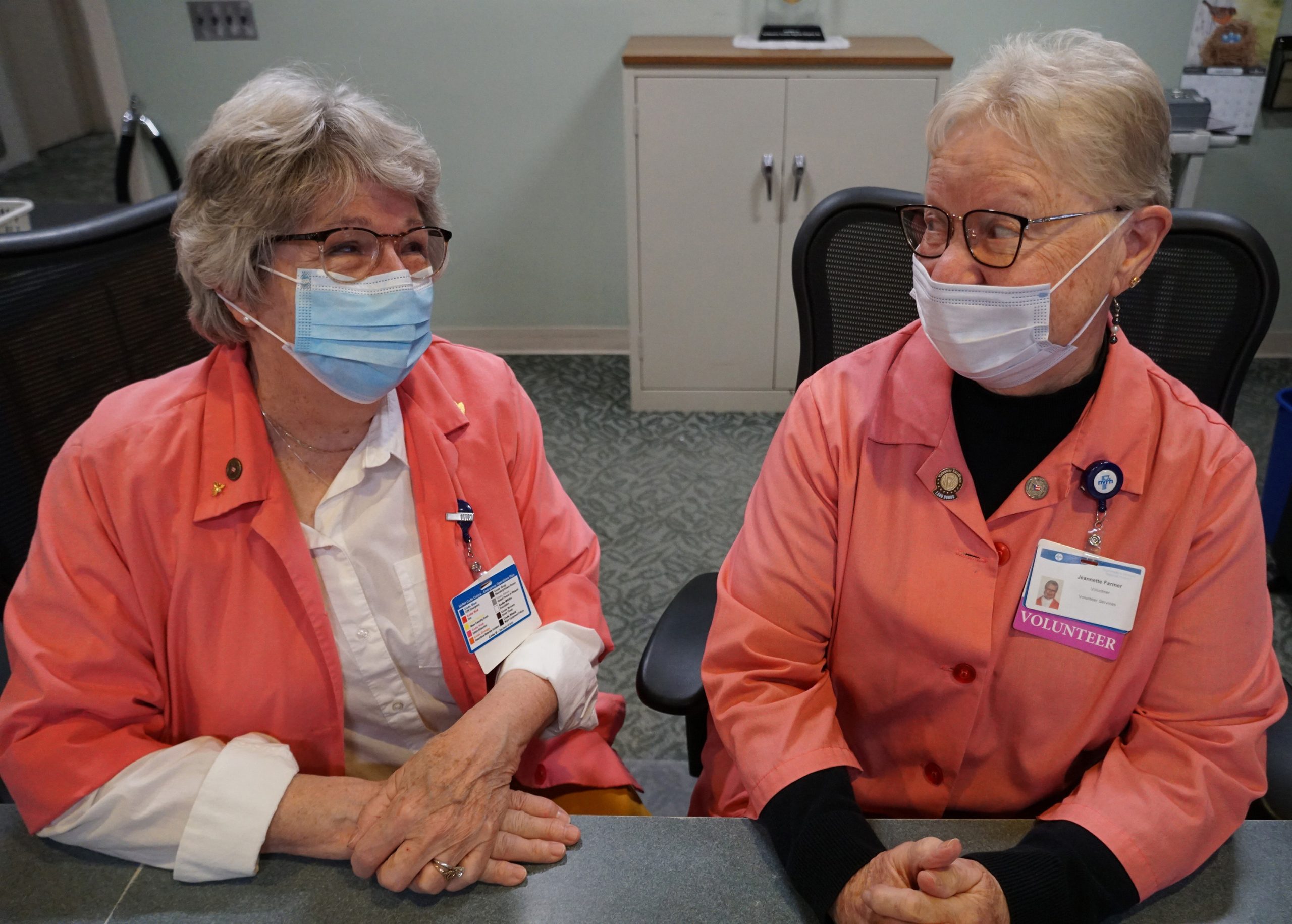 Volunteers Lorraine Mattheis & Jeannette Farmer greet visitors, patients and staff at the front desk.
ST. JOHNSBURY, VT (April 18, 2022) – Northeastern Vermont Regional Hospital (NVRH) invites you to celebrate National Volunteer Week – which runs April 17 to April 23, 2022 – by thanking volunteers at your next scheduled appointment and purchasing tickets for the Auxiliary's Annual Raffle in support of the NVRH Scholastic Achievement Awards.
COVID-19 has impacted much of what volunteers are able to do. During the COVID-19 pandemic, NVRH paused its volunteer services. Then, after Gov. Phil Scott updated his guidance to allow fully vaccinated volunteers back into hospitals in March 2021, the hospital welcomed back volunteers in April 2021. After 13 months, services are now starting to return to normal. Although volunteers have still not returned to all areas of the hospital, NVRH currently has 73 active volunteers and over 150 Auxiliary members involved in multiple departments.
Volunteers continue to be a mainstay in the hospital.
"There is nothing better than to see the joy that the volunteers bring to our NVRH community," NVRH Volunteer Services Director Pat Forest said.
The volunteers support staff as well as patients and visitors. They also volunteer for a variety of reasons: they love people, they want to help their community, they want to make friends because they are new to the area, and they want to be surrounded by caring people.
"This is where I come to have fun!" volunteer Laurel St. James said. "It gets you out of the house and gives you something productive to do," volunteer Linda Winot added.
The NVRH Auxiliary is also currently holding its Annual Raffle, which directly supports the NVRH Scholastic Achievement Awards. Each year, the Auxiliary gives five scholastic awards to area students who are either currently in a healthcare college program or will be attending a healthcare college program in the fall. There are two $1000 awards and three $2,500 awards for a total of $9,500. These awards will be given at the May, 2022 bi-monthly NVRH Auxiliary meeting. You can purchase tickets and support local students at the hospital's front desk or online at www.nvrh.org/nvrh-auxiliary-raffle. The drawing will be held on May 13, 2022.
The NVRH Auxiliary is actively recruiting volunteers for the information desk, the gift shop, mammography department, dietary department, Reiki and music services, laundry, administrative and business offices, knitting and of course, the Board of Trustees. Anyone interested in volunteering at NVRH should visit www.nvrh.org/volunteer and call the Volunteer Services department at 748-7310.
Northeastern Vermont Regional Hospital © 2020