NVRH Celebrates National Nursing Assistants Week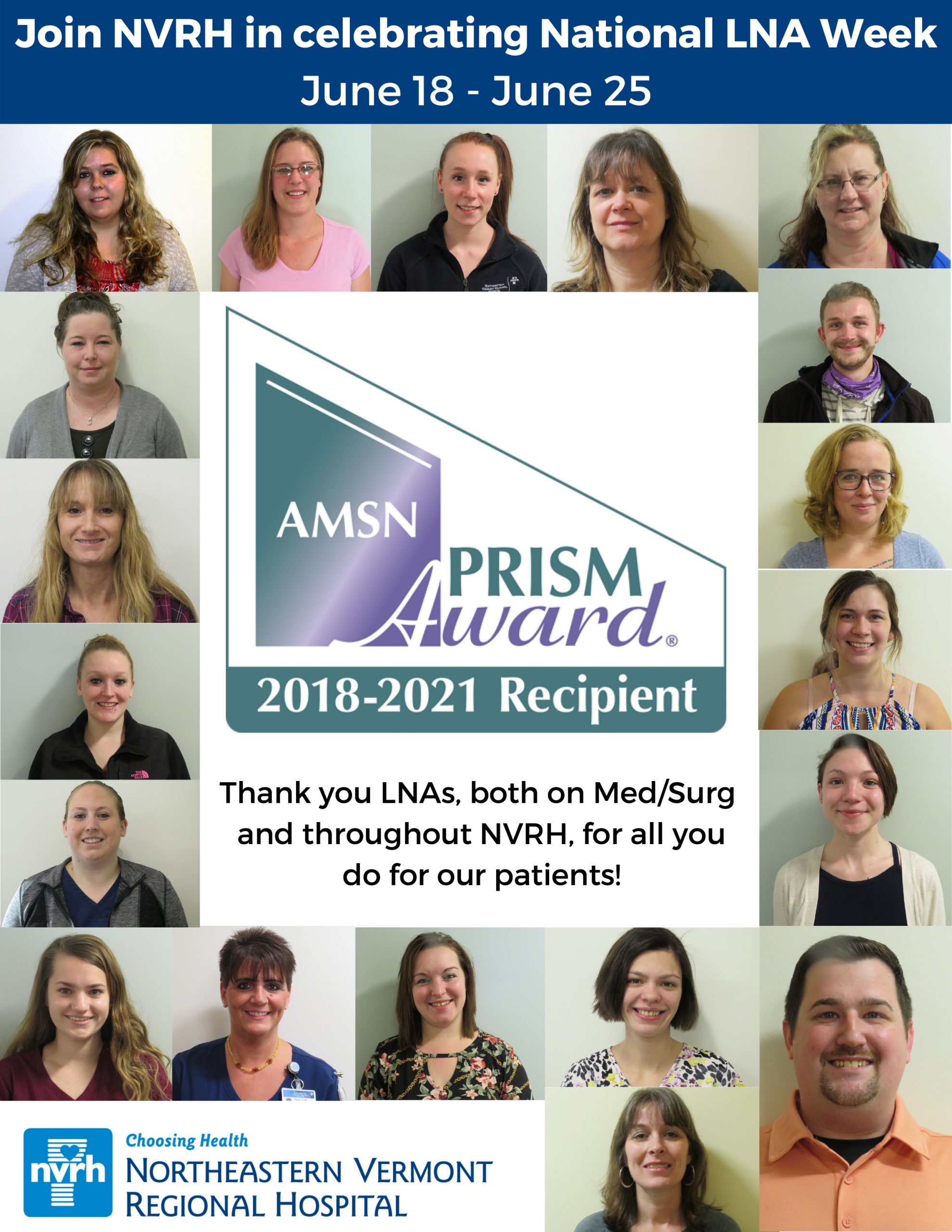 ST. JOHNSBURY, VT (June 17, 2020) – Northeastern Vermont Regional Hospital (NVRH) is excited to recognize all of its Nursing Assistants during the 43rd annual National Nursing Assistants Week, "Nursing Assistants: Kindness in Action," Thursday, June 18 to Thursday, June 25.
Licensed Nursing Assistants (LNAs) provide as much as 85 – 90% of the hands-on care patients experience across health systems, including long-term care facilities and in-patient hospital departments.
According to the National Network of Career Nursing Assistants, "Nursing assistants are key players in the lives of the people in their care. Each day, more than 4.5 million caregivers provide hands-on care to our nation's frail, elderly, or chronically challenged citizens in nursing homes and other long term care settings. And the number is growing as an additional 700,000 new positions will need to be filled in the next 25 years."
The first day of National Nursing Assistants Week, "Career Nursing Assistants Day" celebrates the caregiving "stayers," the individuals who choose a career as an LNA to provide consistency and stability within their department. The following days highlight how LNAs create a community of caring.
"Our LNAs are incredibly important to the care our patients receive," LNA Coordinator on the Medical/Surgical Unit Michael O'Dell said. "They're often the people who interact one-on-one the most with our patients, making them feel comfortable and safe."
"As an LNA at NVRH, I get to practice kindness and be there for people when they need someone the most," NVRH LNA Sam Monfette said. "I'm really lucky I am able to work in a field that aligns so much with my values."
In 2018, NVRH's Medical/Surgical Unit received the Academy of Medical Surgical Nurses (AMSN) PRISM Award®. This prestigious honor recognizes the collective achievements and contributions of the NVRH Med-Surg nursing staff. Applications were peer reviewed by a team of medical and surgical nurses. During the selection process, the team commented that, "NVRH nurses and LNAs are engaged and flourishing in a supportive environment that encourages education, professional development and recognition or excellence."
Curious about working as an LNA at NVRH? Visit nvrh.org/careers for more information.
Northeastern Vermont Regional Hospital © 2020