Community Connections Enters 21st Year in Operation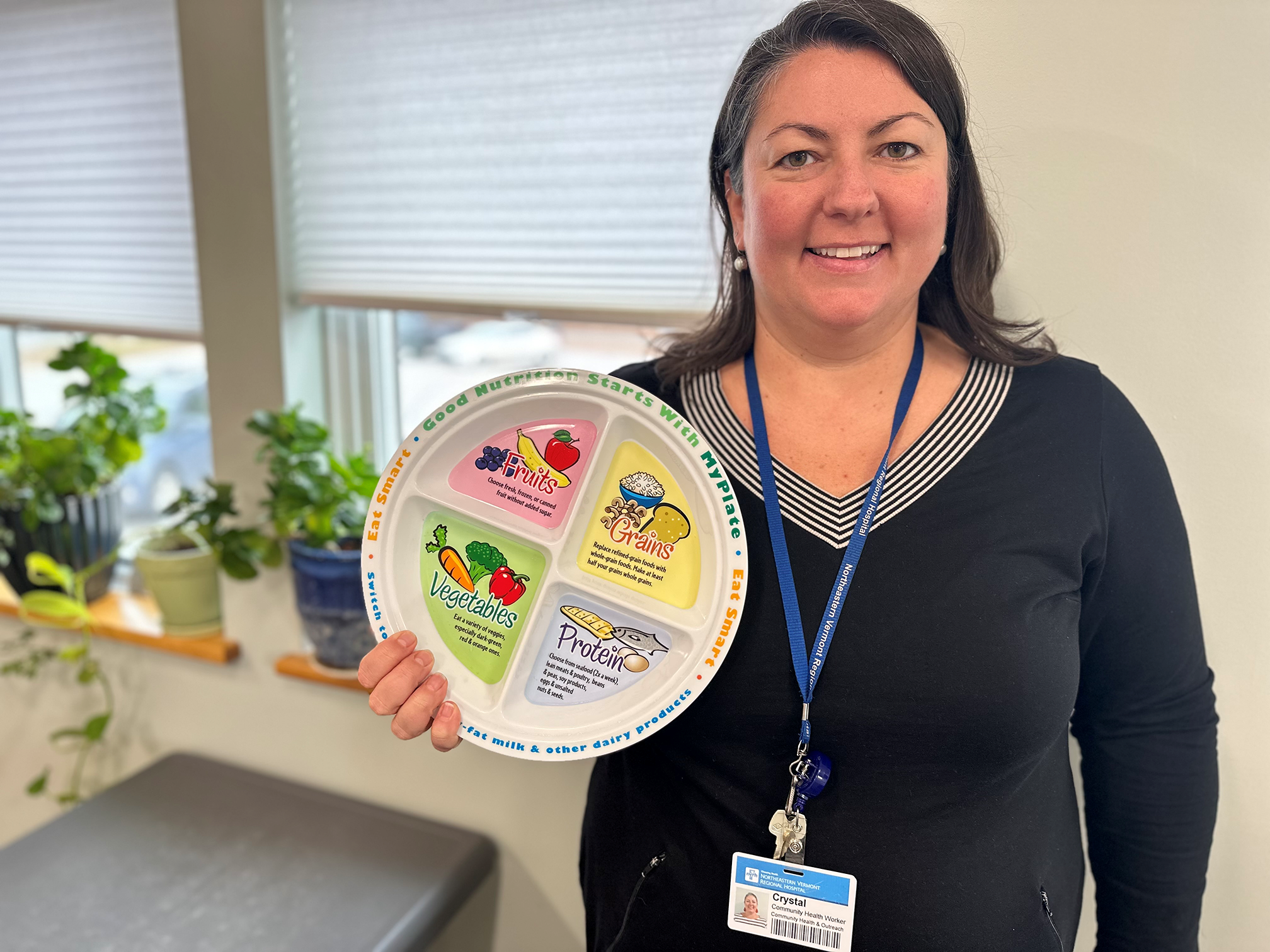 Community Connections' Community Health Worker Crystal Bigelow is a Certified Health Coach and helps community members manage their diabetes through diet and exercise.
ST. JOHNSBURY, VT (January 13, 2023) – Now that it is 2023, the Northeastern Vermont Regional Hospital (NVRH) Community Connections program officially enters its 21st year in operation.
Community Connections started in 2002, when Northeastern Vermont Area Health Education Center (NEV AHEC) – now known as Northern VT AHEC – received a large federal grant from the US Office on Women's Health to create a Women's Center of Excellence housed at NVRH. What later was named Community Connections became the cornerstone for that Center of Excellence.
Primary care providers told leaders at NEV AHEC that they needed a place to refer patients who needed help accessing things like transportation, housing, food and health insurance. They realized that health was negatively impacted by the social barriers that their patients encountered. For example, lack of access to reliable transportation, a meal or a safe place to live often resulted in poor health outcomes.
Nancy Frank, who, at that time, worked at NEV AHEC and eventually became the Project Director of NEV AHEC's  National Community Center of Excellence in Women's Health, had been researching the role that Community Health Workers (CHWs) can play in helping people navigate the often complicated healthcare and social service systems.
"It was really a joint effort between NEV AHEC and NVRH," Frank said. "We were fortunate to have federal funding to plant the seeds for development of a Community Health Worker program that has had significant impact on people's lives and the community over the years. A small program that started for women only has grown and been sustained because of NVRH's commitment to the community."
"Community Health Workers were not on my radar in 2002," former NVRH VP of Marketing and Community Health Improvement Laural Ruggles admits. "But I and others at NVRH saw Nancy's vision for the value CHWs can add to the healthcare team and the patient experience, so we were quickly committed to partnering with NEV AHEC on the project."
Two Community Health Workers were hired in 2002 and had an office on the third floor of NVRH. They soon moved to a small office in the NVRH-owned Medical Arts Building across the street. As the program grew, Community Connections staff was eventually moved to their current location on 55 Sherman Drive. 
Today, there are four full-time Community Health Workers in Community Connections. The well-rounded team is trained in pivotal areas such as health coaching, health insurance navigation, tobacco treatment and motivational interviewing.
"Community Health Workers fill a critical role by bridging gaps across health and social service resources," current NVRH VP of Marketing and Community Health Improvement Diana Gibbs said. "As we know, healthcare services meet specific clinical needs, and when paired with adequate social supports, patients often experience better outcomes."
NVRH has long been committed to community health.
"Here at Community Connections, we serve as the gateway to our robust Community Health Team," NVRH CHW and Community Health Team Lead Deborah Locke-Rousseau said. "There are over 50 member organizations represented on our Community Health Team that provide supports and services in our community. We come together regularly to learn about each other and how we can work together as teams supporting our fellow community members."
Community Connections provides health and financial coaching and support to quit nicotine. There are also two Vermont Health Connect Insurance Navigators that can help with insurance. Community members can drop by or call to ask about services, providers can refer patients and community organizations can refer community members. Also, all Community Connection staff are trained in Peer Recovery Coaching with the intentions of supporting the local Recovery Center. 
"As a Community Health Worker here at Community Connections, I really enjoy helping the community navigate outreach resources that may help them overcome a variety of barriers," Community Connections CHW Crystal Bigelow said. "We have a strong team here and we utilize each other's expertise in our knowledge areas. The work done here is more than rewarding when we can meet the needs of our patients."
Community Connections' services are free of charge. Learn more about Community Connections at nvrh.org/community-connections or call them today at 802-748-7526.