"The Vermonter" Art Exhibit Opens in the Gray Gallery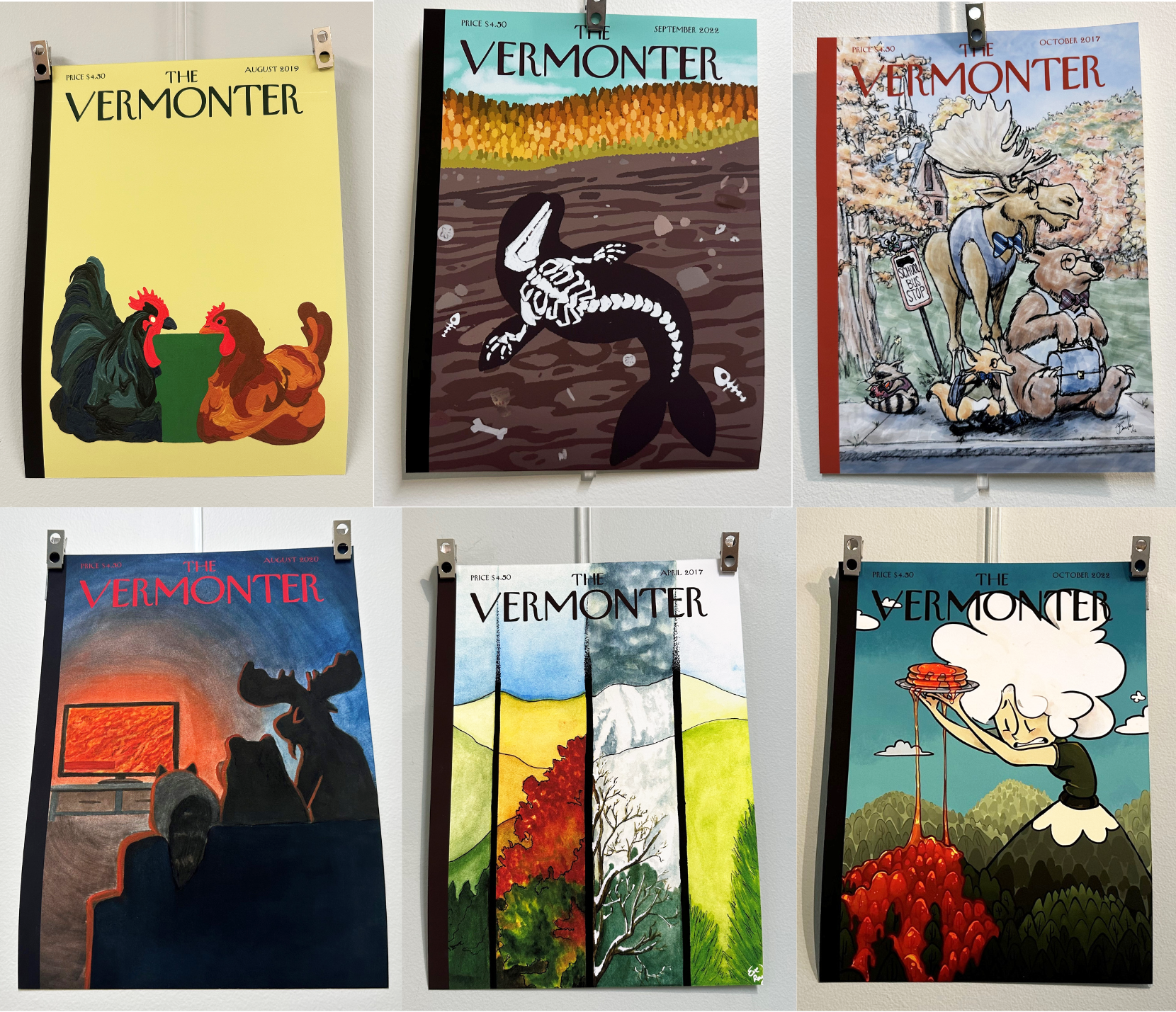 ST. JOHNSBURY, VT (January 12, 2023) – The Charles M. and Hanna H. Gray Gallery at Northeastern Vermont Regional Hospital (NVRH) is excited to announce the opening of its newest exhibit, "The Vermonter" by Barclay Tucker and his Northern Vermont University illustration and animation students. The exhibit, which opened on January 6, 2023, will run until February 27, 2023.
Since 2017, Professor Barclay Tucker's illustration and animation students at Northern Vermont University – Lyndon have been capturing the essence of Vermont in creating cover illustrations for the fictional magazine The Vermonter. The idea of this project came from a love of The New Yorker cover illustrations.
"One of the joys of putting this exhibit together was to be reminded of the incredible illustrators we have now and have had in the past," Tucker said. "It is also exciting to see the wide range of approaches in both styles and subject matter."
Professor Tucker studied art at the University of Utah and began a career as a designer and illustrator. He received his Master of Arts from Syracuse University and a Master of Fine Art from the University of Hartford, Hartford Arts School.
In addition to teaching, Professor Tucker maintains a freelance illustration and design business. He has illustrated educational books for Good Sound Publishing and HEC and has designed logos for local Vermont companies. Tucker is currently working on publishing a series of books that he has both written and illustrated. He is also a bow tie designer.
Artists featured in "The Vermonter" exhibit include Renee Chaple, Garret Davis, Wayland Falco, Becca Fauteux, Samson Fickes, Precious Flores, Ben Gazda, William Gilbert, McKenna Griswold, Doug Kimball, Jet Magri, Chibi Miller, Yvette Moran, Brianna Orben, Cheyenne-Autumn Reilly, Gabe Robbins, Victoria Rose, Chance Rowe, Eve Roy, Sophia Ruiz, Erica Shea, Gywn Sheperd, Sebastian Siegfried, Meghan Smith, Baclay Tucker and Liz Venus.
The Charles M. and Hanna H. Gray Gallery is located on the hospital's main floor. The exhibit will be on display until February 27, 2023. You may also view a short video of the exhibit on the Charles M. and Hanna H. Gray Gallery webpage at bit.ly/NVRHGrayGallery. Please note that pieces are not for purchase. For more information, please contact Associate Director of Philanthropy and Art Gallery Curator Jennifer Layn at j.layn@nvrh.org or 802-748-7313.