Cepheid Analyzer for COVID Testing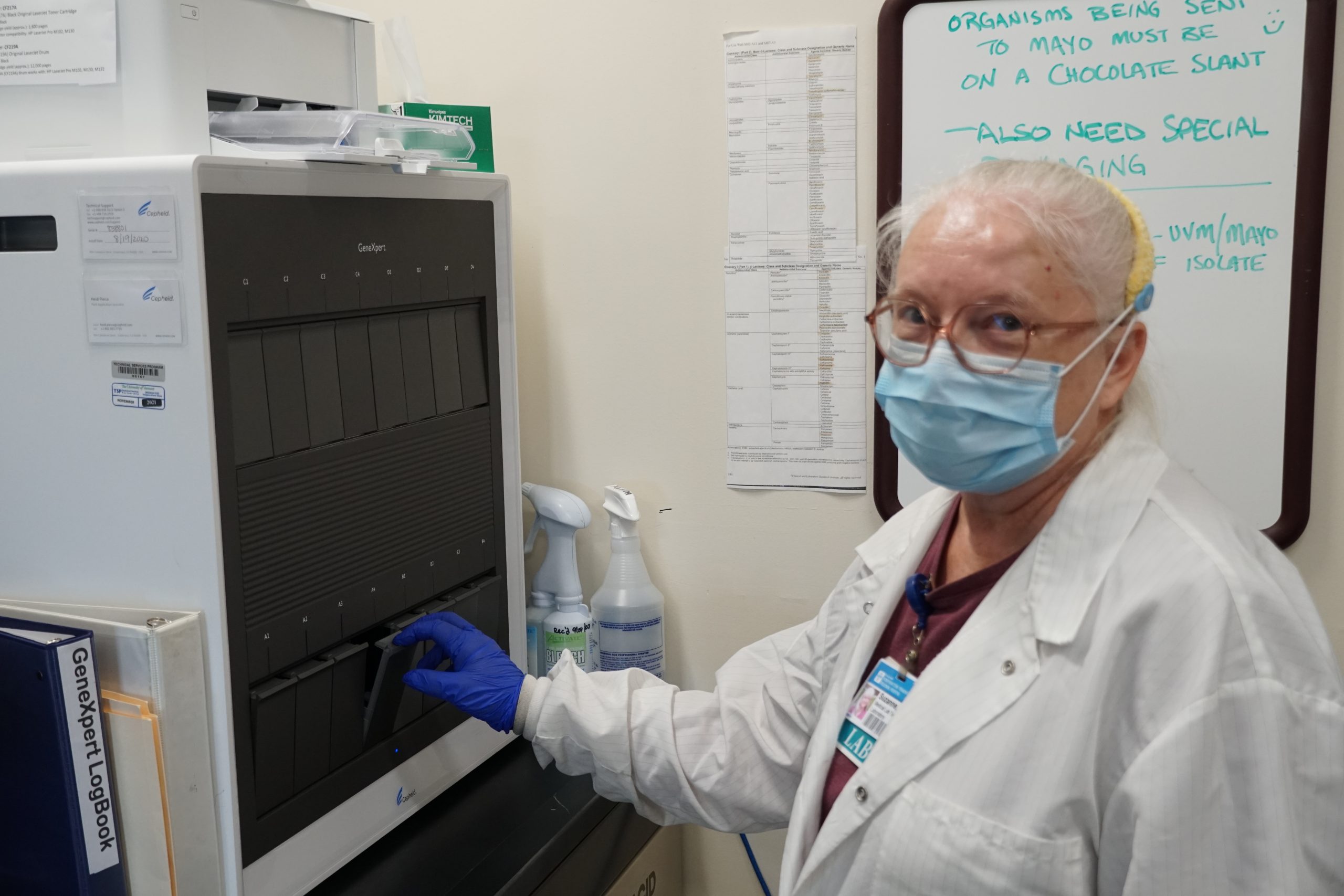 St Johnsbury (December 7, 2020). Quickly identifying a highly contagious disease is key to both containing the spread and treating the patient.  Northeastern Vermont Regional Hospital (NVRH) now has a new tool to quickly analyze lab specimen for infectious diseases including COVID-19.  The Cepheid Analyzer provides fast turnaround of lab results to allow the hospital care team to make real time decisions to manage patient care.
Thanks to generous donors Barbara and Chick Allen, NVRH received the Cepheid Analyzer in July.  "The Allen's approached us early this year – just prior to the pandemic – about making a donation for needed medical equipment," said NVRH CEO Shawn Tester.  "We had the Cepheid Analyzer on our wish list and with their donation we were able to purchase it".
Once the pandemic hit, the Cepheid Analyzers became in high demand, delaying the delivery to NVRH until this summer.  "The Cepheid Analyzer allows quick results, usually in about an hour", said Jeanne McBride, NVRH Director of Laboratory Services. "We originally wanted it to get faster results for bacterial infections like C-Diff, MRSA, Group B Strep." 
The Cepheid Analyzer provides quick results for COVID-19 and other respiratory illness.  It uses a pod system, called a fluvid cartridge, to take one specimen and analyze for four different respiratory illness.  "I call it the quad pod," said Dr. Michael Rousse, Chief Medical Officer at NVRH.  "One pod will test for four viruses: SARS-CoV-2, Influenza A, Influenza B, and RSV – another common respiratory virus."
These are the PCR tests – the current gold standard for test results – not the less accurate antigen tests.  Having the Cepheid Analyzer onsite at NVRH gets the results to the care team quicker.  Normally, COVID specimen taken at NVRH are sent to offsite labs for analysis and it sometimes takes two or more days to get the test results back. 
With the Cepheid Analyzer, NVRH can take the sample and run the test on site, eliminating the need for the offsite lab.  This dramatically reduces the time to get results and to make important decisions about patient care.  "Rapid knowledge of COVID status will allow us to know whether someone needs to be cared for in a negative pressure room, what type of personal protection gear the staff need to wear, and what treatment to start," said Rousse.
The pandemic has also delayed delivery and supply of the COVID pods.  "We just got the pods for COVID in November," said Rousse.  "Right now we are only getting 100 pods per month, so we have to be careful about how and when we use them."
A clinical team headed by Rousse met to prioritize the use of the COVID pods.  For now, the pods will be used for patients waiting admission to an inpatient mental health facility and inpatients at NVRH who are seriously ill with respiratory symptoms. "As the supply chain improves for the pods, we will be able to do more in-house testing", added Rousse.
Northeastern Vermont Regional Hospital © 2020