VTC Nursing Students Donate "Post-Partum Mom Boxes" to Support Mothers of NVRH's Birth Center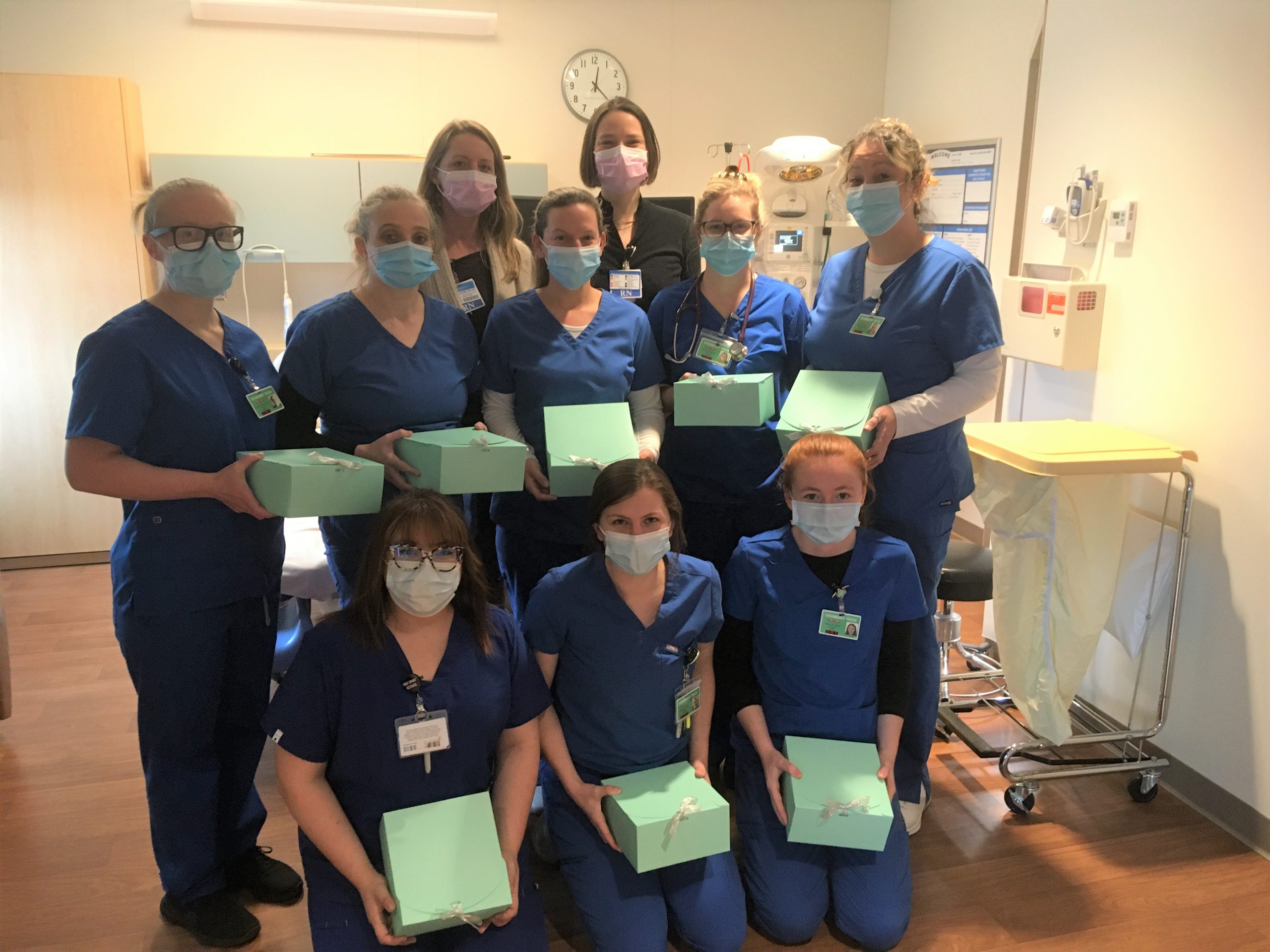 Photo: VTC Nursing students pose with NVRH staff showcasing their "Post-Partum Mom Boxes", in which the students raised the funds and developed the boxes to gift to mothers at NVRH's Birth Center. 1st row: Lizzi Stevens, Trisha Ford, Allison Sicard 2nd Row: Cortney Garcia, Alice Harvey, Felicia Bean, Josslyn Berwick, Melissa Gordon. 4th Row: Laura Emery, Director of Birth Center and Anna Bernier, NVRH Nurse.
ST. JOHNSBURY- NVRH has long-standing relationships with local academic institutions. NVRH strives to create exposure and pipeline opportunities for clinical and health profession students to engage with the healthcare professionals working at NVRH. The strong relationship with these institutions often results in innovative projects that benefit NVRH patients and the broader community. This mutually beneficial relationship continues to be critical and fulfilling for both NVRH, students, and faculty, while also supporting the pipeline to cultivate the future healthcare workforce.
The Vermont Technical College (VTC) nursing program students are required to complete a community project each year. This year, 8 nursing students developed a project idea and were determined to find the resources to pull it off. The students baked goods and sold them at the local 'Autumn on the Green' event to raise money to put together self-care packages for new parents, called "Post-Partum Mom Boxes." The students presented 120 of the thoughtful boxes to NVRH Birth Center staff, Laura Emery, Director, and Anna Bernier, RN, on November 23. The students will also have an opportunity to witness distribution of these boxes during their clinical rotation at NVRH, running from January 4th through June 15th.
"We selected the Birth Center, and ultimately mothers of the Northeast Kingdom, as the recipient of our project as we felt that post-partum disorders like Post-Partum depression, anxiety, and rage are often overlooked/underdiagnosed conditions that greatly impact the quality of life after delivery. We wanted to create boxes that not only brought awareness to this important topic, but boxes that also celebrated the incredible mothers of the NEK. We were able to donate 120 post-partum mom boxes to the NVRH Birth Center, after fundraising over $700. With around 200 deliveries each year, nearly every mom in the coming year will receive one of our boxes. We would like to thank our communities as well as Laura Emery, Director of the Birth Center, for enthusiastically supporting our cause and hope our gift has a resonating impact for the coming year of deliveries in the NEK." – VTC Nursing Students, Lyndon Cohort
Northeastern Vermont Regional Hospital is located in St. Johnsbury in the Northeast Kingdom of Vermont. We are a community, not-for-profit, acute care, critical access hospital. NVRH is one of two Vermont hospitals designated as Baby Friendly(TM) by the United Nations. The organization provides primary and preventive care, surgical and specialty services, inpatient and outpatient care and 24-hour, physician-staffed emergency services. Aligned with community partners, NVRH values and invests in efforts to address social conditions to create communities that are well-nourished, well-housed, physically healthy, mentally healthy, and financially secure. NVRH serves the health needs for over 30,000 people in Caledonia and Southern Essex Counties in Vermont and employs nearly 700 dedicated staff.