Prevention Services' Cheryl Chandler Becomes Certified to Teach Adult Mental Health First Aid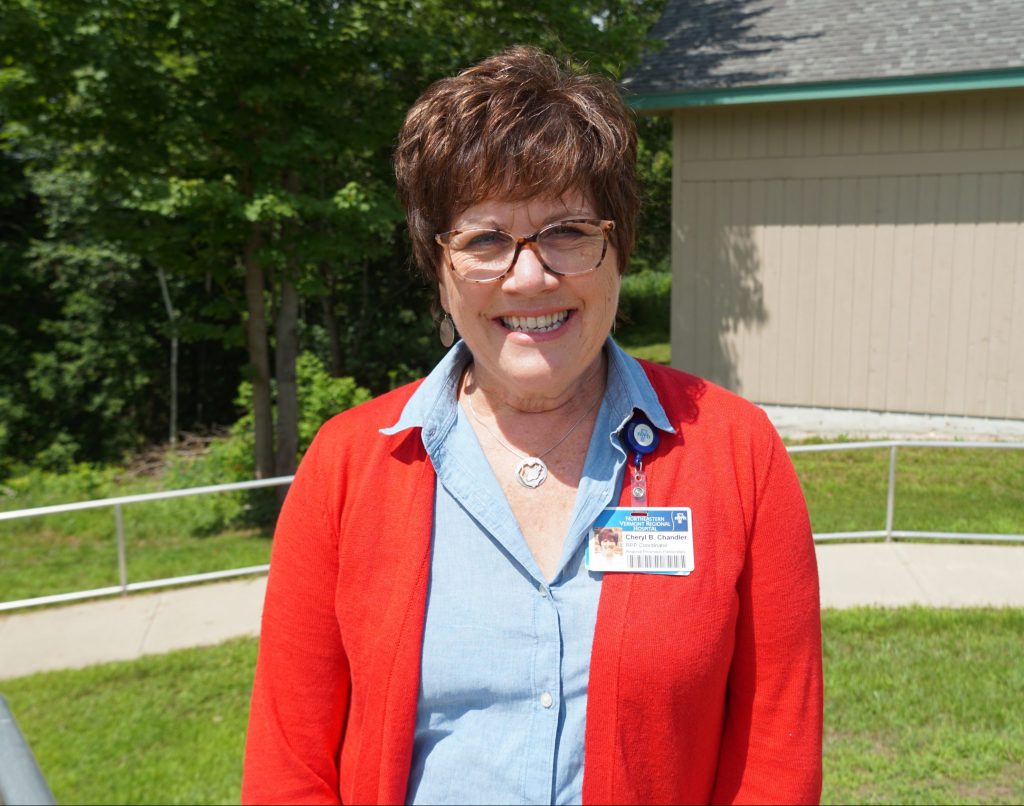 ST. JOHNSBURY, VT (August 5, 2020) – NVRH is excited to announce that Regional Prevention Partnership Coordinator Cheryl Chandler has now become certified to teach Adult Mental Health First Aid (AMHFA), a skills-based training course that addresses mental health and substance-use issues. Chandler became certified to teach Youth Mental Health First Aid (YMHFA) in November 2018.
Those who participate in an AMHFA course are taught how to assist someone experiencing a mental health or substance use-related crisis. As a AMHFA course instructor, Chandler will teach participants how to recognize risk factors and warning signs for mental health and substance use disorders, as well as strategies for how to help someone in both crisis and non-crisis situations and where to turn if one needs help.
Mental health conditions are the leading cause of disability across the United States. Even though most people can be successfully treated, less than half of the adults in the U.S. who need services and treatment get the appropriate help. AMHFA instructors aim to train as many people as possible to recognize the signs and symptoms of a mental health disorder, including substance use disorder. Individuals who take the course are not taught to diagnose, only to recognize signs and symptoms and then encourage identified individuals to seek appropriate professional help.
To receive this certification, Chandler joined 10 other students to complete approximately eight hours of self-paced prep work and participate in a three-day training by national trainers from the National Council for Behavioral Health. Participants were also required to do homework and prepare a 25-minute presentation.
Stigma, which stems from misunderstanding and discrimination, has a great impact on those living with a mental health disorder. AMFHA teaches participants how to look beyond that stigma.
"Mental health disorders are common, they can affect your work, your family, your social life," Chandler said. "It's important for a person to seek treatment as early as possible. Stigma may be one of the reasons they delay seeking treatment, and that inspires me to train as many people as possible about reducing stigma."
Chandler also serves on the Mentally Healthy Collaborative Action Network (CAN), Positive Balance, of NEK Prosper, Caledonia and southern Essex's Accountable Health Community. One of CAN's current projects, which aims to reduce stigma around mental health, is asking that the community take the Positive Balance survey. It only takes 10 minutes to complete and there are no right or wrong answers to this completely voluntary, anonymous and confidential survey about knowledge of – and attitudes towards – mental health.
"Survey responses will help us understand views and knowledge about mental health in our communities," Director of Behavioral Health at Northern Counties Health Care and Mentally Healthy CAN member Betsy Fowler said. "This information is important for improving the health of our communities through targeted action."
This survey is open to people who are 18 years of age or older, and who live, work or go to school in the NEK. After completing the survey, you may choose to enter a drawing for one of three $100 gift cards from a local grocery store of your choice. The drawing will take place after the close of the survey, in October 2020. Please note that the survey can only be completed once. To take this survey, please click here.
We all need help sometimes. Seeking support is the bravest thing you can do.
"Cheryl Chandler's certifications in both Youth and Adult Mental Health First Aid are tremendous assets for youth and adults living in our community," Fowler added. "Many people living with mental health challenges do not seek help. Mental Health First Aid provides a foundation to identify and support individuals experiencing a mental health crisis."
For more information about attending an upcoming Youth or Adult MHFA course, contact Cheryl Chandler at 802-748-7555 or c.chandler@nvrh.org.
If you need someone to talk to, reach out by texting VT to 741741 or calling 1 800-273-8255 to get CONFIDENTIAL, FREE professional support 24/7.
Northeastern Vermont Regional Hospital © 2020