Over the Counter Hearing Aid Act – The Ins & Outs
By NVRH Audioglost Dr. Schaeffer
There has been tons of media attention to the Over the Counter Hearing Aid Act of 2017, which went into effect recently.  Let's give you the ins and out of it all.
Amplifiers, or over the counter (OTC) hearing aids, have been around since the1950s. This Over the Counter Hearing Aid Act of 2017 brought to light the fact that you can purchase these devices online, by phone, or in a store (e.g. Walmart, CVS).
OTC hearing aids can be helpful for some people with slight loss, but for those with greater loss, these devices will not be helpful.
It should be noted that it is always advisable that a patient looking at OTC hearing aids at least have a medical professional inspect ears for wax or other issues that may be addressed prior to purchasing over the counter aids. A good rule of thumb from the AMA notes a person 50 years or older should have a baseline hearing evaluation to determine if hearing loss exists.
It is important to know that insurance does NOT cover OTC hearing devices. Some insurance have started to address coverage of amplification, but it is far from being customary. And it is important to understand that the cost of hearing aids includes more than the devices themselves; it also includes getting them fitted by a professional, the cost of repair and loss/damage warranties, counseling, and follow up.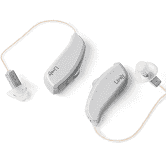 If you have issues, questions, or need adjustments, there is a team of professionals to support you and your devices at North Country Otolaryngology & Audiology. We are always glad to support our community with better hearing through education, diagnosis, and treatment. Feel free to contact our office at 802-748-5126.