As Breast Cancer Awareness Month Comes to an End, NVRH Encourages Continued Screenings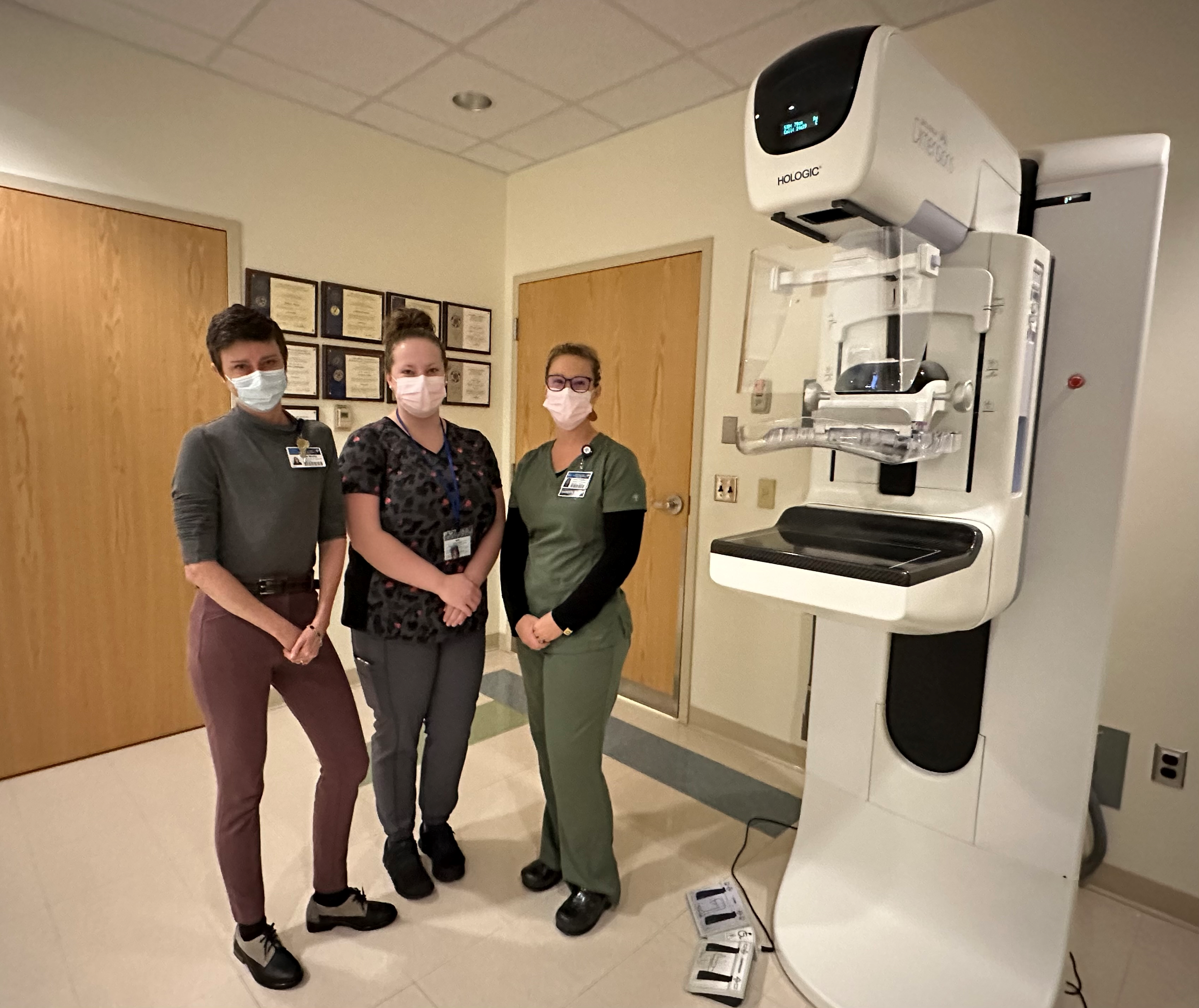 L-R: NVRH Marketing and Communications Coordinator Katie Moritz (left), who had a mammogram in September 2021 and was diagnosed with advanced breast cancer, poses for a photo with NVRH mammogram tech-in-training Taylor Nicole Chase (center) and mammogram tech Jessica Placey (right). As Breast Cancer Awareness Month comes to an end, NVRH encourages individuals to continue to get their mammograms and do their self-exams.
ST. JOHNSBURY, VT (October 26, 2022) – As Breast Cancer Awareness Month comes to an end, Northeastern Vermont Regional Hospital (NVRH) would like to remind the public of the importance of continued mammograms and self-screenings. Self-screenings, which are important for individuals under the age of 40 and who may not yet be receiving regular mammograms, are easy and take only a minute. For individuals age 40 and older, a mammogram is the best test providers have to find cancer early.
Breast cancer is the second most common cancer among women in the United States, and Black women die from it at a higher rate than White women. According to the American College of Radiology, "New American College of Radiology® and Society of Breast Imaging breast cancer screening guidelines call for heightened screening attention for transgender individuals, Black women and other often overlooked or underserved populations."
"It's so important to do your self-exams and get your regularly scheduled mammograms," NVRH mammographer Jessica Placey said. "A lot of folks think that they don't need a mammogram because they don't have a family history of breast cancer. But in fact, patients without a family history are often diagnosed at a more advanced stage."
The symptoms of breast cancer are different for everyone, and some individuals do not have any symptoms at all. However, the most common include a lump in the breast or armpit, skin changes, inverted nipple, nipple discharge, pain and changes in breast shape or size.
NVRH uses state-of-the-art digital mammography equipment that uses low energy x-rays to generate high-resolution images. This technology provides the most accurate results. NVRH also uses SmartCurve paddles to ensure patient comfort.
To learn more about breast health, self-screening and to schedule your mammogram, talk to your primary care provider.