NVRH invites Public to Mental Health Support Area Groundbreaking Celebration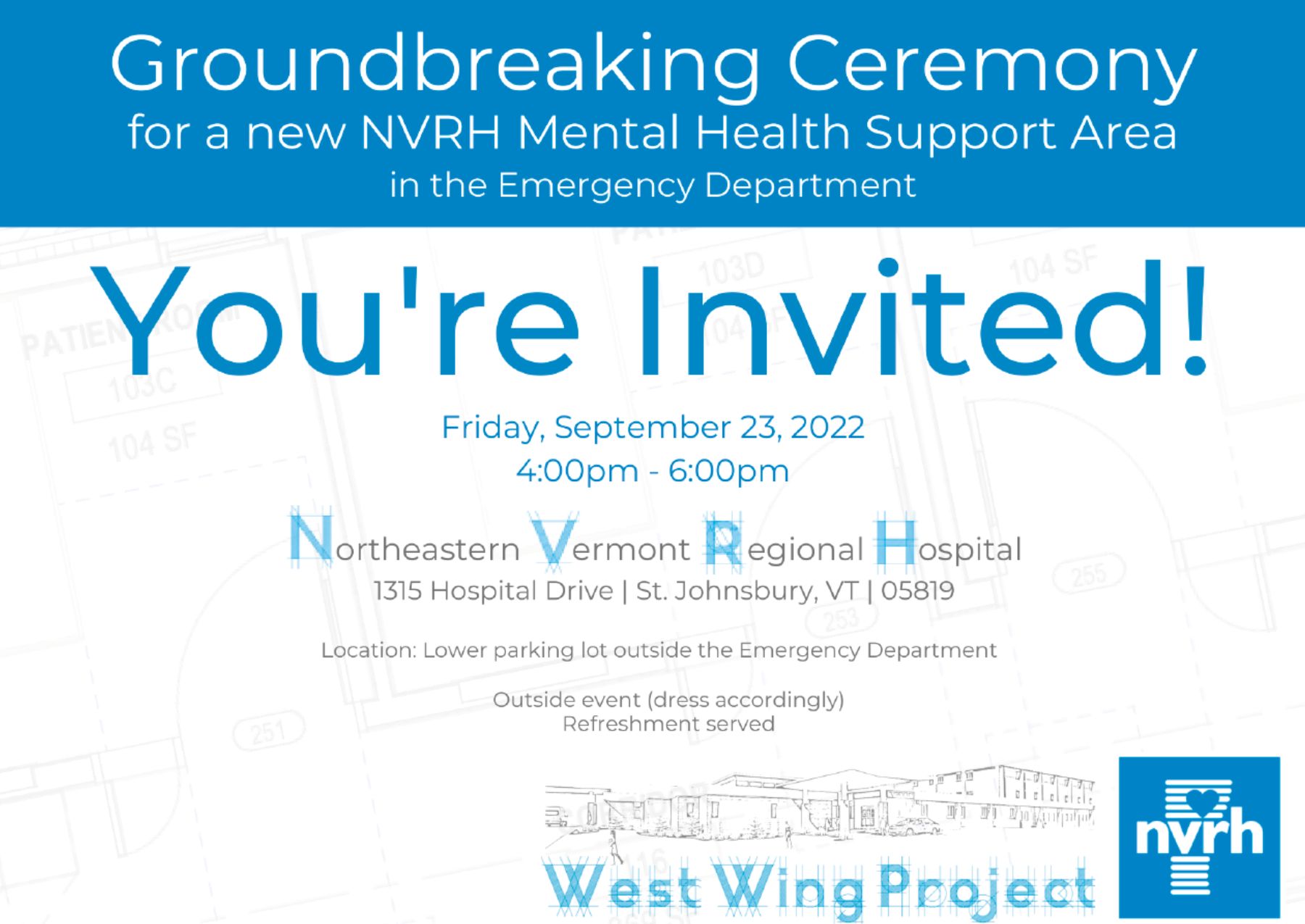 ST. JOHNSBURY, VT (September 16, 2022) – Northeastern Vermont Regional Hospital (NVRH) invites the public to a groundbreaking celebration for the NVRH Mental Health Support Area on September 23, 2022, from 4:00 p.m. – 6 p.m. in the NVRH lower parking lot, outside of the Emergency Department.
The Mental Health Support Area is being built as an addition to the NVRH Emergency Department (ED) in response to the growing local and national mental health crisis, which has reached a critical point in the NEK.
"The ED is on the frontlines of caring for people experiencing a mental health crisis," said NVRH Emergency Department Medical Director Dr. Ryan Sexton. "Between 2019 and 2021, we saw a 26% increase in the number of people coming into the ED in crisis. For children and adolescents, that increase was closer to 58%. We've also seen a significant increase in the amount of time these patients are with us awaiting their transfer to an appropriate treatment facility. Currently, we only have small, windowless exam rooms with little privacy to care for these patients. Our patients deserve better."
As NVRH celebrates its 50th anniversary, it is embarking on the largest renovation and expansion of clinical space since the original construction in 1972, coined the "West Wing Project." With the goal of continuing to provide high quality care for our community, this project will greatly expand our physical space in the Emergency Department, Laboratory, and Pharmacy, helping to ensure better workflows and patient experience.
NVRH has prioritized the construction of the Mental Health Support Area as the first project in the larger expansion project, made possible by a $3 million Congressionally Directed Grant from Senator Leahy. This area will include four patient rooms all with exterior windows, one restroom, a shower room, a staff area, and a family room, which will enhance the patient experience while at NVRH. Construction will begin in late 2022 or early 2023.
Senator Patrick Leahy, Chair of the Senate Appropriations Committee, said:  "I am proud to partner with NVRH to support expanding facilities and services to meet the mental health needs of Vermonters. The Mental Health Support Area will provide a quality environment for patients, the healthcare workers who care for them, and the family members who love them. Investing in healthcare services in the Northeast Kingdom helps to ensure that this region is a vibrant place for Vermonters to live, work, play and call home."
In addition to the expanded ED, NVRH has responded to the growing mental health needs in a variety of ways. For example, the hospital has created transition beds; integrated screenings, interventions, and referrals to treatment; enhanced staff training, communication and workflows; developed Mental Health Crisis Patient Resource Guides; and provided therapeutic activity toolkits for pediatric patients. Several of these initiatives have been made possible by strong community collaborations and donor support.
"The impact that the Mental Health Support Area will have on patients, staff, and families will be significant," said NVRH CEO Shawn Tester. "As a community hospital, we are committed to treating the whole person. We have evolved our understanding of how to integrate mental health care into more traditional healthcare, which motivates our commitment to provide treatment space that meets the complex care needs for individuals experiencing mental health crisis. This new space will also help ensure privacy, safety, and comfort for every patient, visitor, and staff member."
Remarks for the Groundbreaking Celebration will be held at 4:30 p.m., followed by a reception. Please dress for the weather.