NVRH Honors Two Nurses with DAISY Awards to End 2022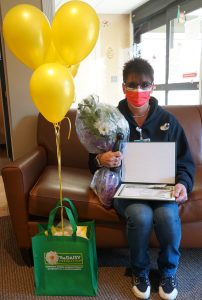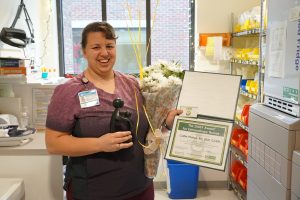 ST. JOHNSBURY, VT (December 9, 2022) – Northeastern Vermont Regional Hospital (NVRH) nurses Callie Phelps, RN, BSN, CCRN, Clinical Nurse Educator, Intensive Care Unit, and Sam Monfette, LNA, Pulmonology, were honored with The DAISY Award for Extraordinary Nurses® for their attentiveness, patient advocacy, and compassionate care during The DAISY Award ceremonies at NVRH on Thursday, December 8 and Friday, December 9.
Traditionally, DAISY Award ceremonies include patients, colleagues and family members and are held on the units. However, Phelps' and Monfette's ceremonies were celebrated in the presence of colleagues and Senior Leadership Team members, and were also posted on the hospital's social media channels.
Phelps was nominated by fellow nurse and colleague Kathryn Roosa, RN.
"This nurse repeatedly inspires me by her example. Not only does she herself provide exceptional nursing care but she also supports her coworkers in doing so.  She highlights case studies showing where changes in the system could improve our care and she actively supports many of those changes. She provides clear shift hand-off reports which often include insightful perspective on the patient's social/emotional situation. I believe that Callie fully exemplifies the caliber of the nurses who inspired the Barnes family to establish The DAISY Award."
Monfette was nominated by nurse and colleague Megan Johnson, RN.
"Sam works in many different units and was in the Neurology department when a patient with dementia became very agitated and upset. Without blinking an eye, Sam got up and entered the room with the patient, who was visibly upset, and redirected her by sitting with her and chatting like they had been friends for years. The patient was almost immediately redirected and you could see the tension drain from their body as Sam went on about jewelry and other topics in her "Sam way." She has always been caring, kind, and compassionate to every patient or person she encounters. She goes above and beyond, and deserves this award more than anyone I know. Sam truly embodies what The DAISY awards stands for."
The DAISY Award is part of The DAISY Foundation's mission to recognize the extraordinary, compassionate care nurses provide their patients and their families every day. The DAISY (Diseases Attacking the Immune System) Foundation is a not-for-profit organization, established in memory of J. Patrick Barnes, by members of his family. Patrick died at the age of 33 from complications of Idiopathic Thrombocytopenic Purpura, a little known but not uncommon autoimmune disease. The care Patrick and his family received from nurses while he was ill inspired this unique means of thanking nurses for making a difference in the lives of their patients and patient families.
NVRH Nursing Administration Project Coordinator Jillian Knight opened each ceremony with the background of The DAISY Foundation and The DAISY Award before turning it over to NVRH Chief Nursing Officer Julie Schneckenburger, who presented Phelps and Monfette with their honoree certificates. The honorees then received their Healer's Touch sculptures, which are hand-carved from serpentine stone by artists in Zimbabwe and represent the bond between nurse and patient. Schneckenburger also read each nomination story during the ceremony.
"NVRH is proud to be among the healthcare organizations participating in The DAISY Award program," Schneckenburger added. "Nurses are heroes every day. It's important that our nurses know their work is highly valued, and The DAISY Foundation provides a way for us to do that."
Nurses may be nominated by patients, families and colleagues. The award recipient is chosen by a committee at NVRH. DAISY nomination forms and collection boxes can be found in units throughout the hospital and at all of our medical practices. Electronic nominations can also be completed by visiting www.daisyfoundation.org/NVRH.