NVRH Four Seasons Orthopaedics now offers same-day joint replacement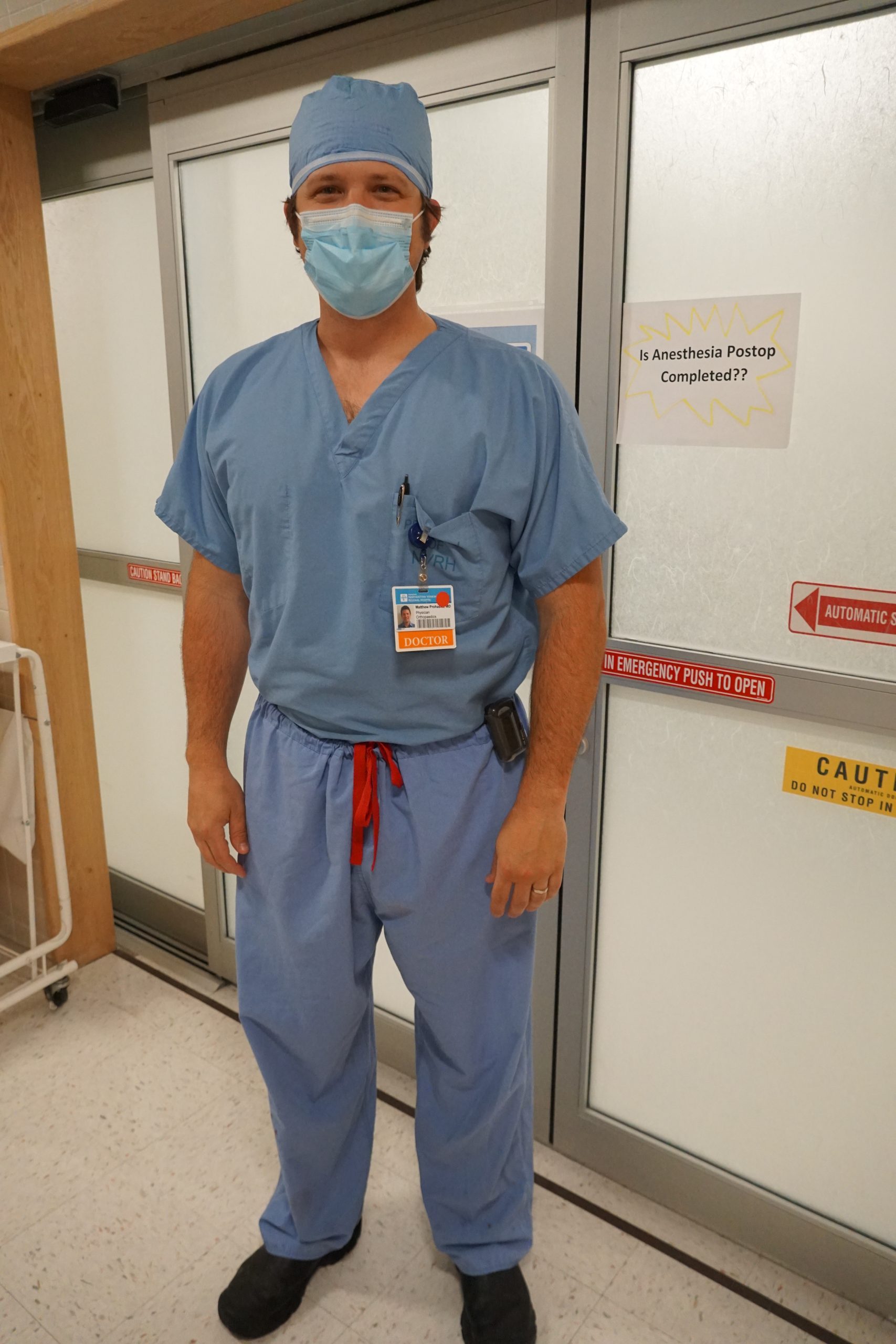 Candidates are those who are able to get around well prior to the surgery
ST. JOHNSBURY (June 22, 2020) –Using a team approach, the physicians, nurses, and physical therapists at Northeastern Vermont Regional Hospital (NVRH) now offer same-day knee and hip joint replacement. Same-day surgery means a patient comes in for the surgery in the morning and is resting in their own home that night.
When most people think about knee or hip joint replacement surgery, they expect a long period of recovery: multiple days in the hospital and weeks or months of being laid up at home.
Recent literature and medical studies have illustrated that same-day discharge, and even discharge within 24 hours, is safe. Surprisingly, there is no increase in complications or readmissions.  Functionally, patients do just as well but get there just a bit faster. So, Dr. Matthew Prohaska, Orthopaedic Surgeon at NVRH Four Seasons Orthopaedics, asked, "Why can't we do this in St. Johnsbury at NVRH?"
"We did not just accept doing things the way it was always done," Dr. Prohaska said. "We wanted to do better for our patients and make changes to improve their experience during joint replacement surgery."
Dr. Prohaska makes it clear that it takes a team for this to work. Surgical techniques have improved over the years, but setting patent expectations for getting up and moving soon after surgery and using the right pain control during and after surgery is also key to success.
"We use nerve blocks at the joint site, spinal blocks, and some sedation during surgery," NVRH Certified Registered Nurse Anesthetists Jason John said. "The typical side effects of general anesthesia, like dizziness and nausea, are gone. Using the blocks allows for a quicker recovery and improves patient comfort right from the start."
Reduced use of narcotic pain medications is also an advantage.
The best patient candidates for the same-day joint replacement are those who are able to get around well prior to the surgery.  "They may be in pain, but they are walking and going about their daily lives," Dr. Prohaska added.
"I had total knee replacements done three and a half months apart," Four Seasons Orthopaedics patient Nancy Poulos said. "I went home from the hospital the same day as the surgery after both procedures, once I demonstrated to physical therapy that I could (and would) faithfully do the exercises they assigned."
People with multiple chronic conditions, such as diabetes or lung or heart disease, can still expect to recovery quickly, but may have to spend another day in the hospital. "Same day discharge after joint replacement may not be for everybody, but it is possible for many more than we thought possible.  It's also important to know that age is not a major factor," Dr. Prohaska added. "We've done same-day joint replacements for people in their 80's."
Soon after coming out of surgery, patients are cared for on the NVRH Medical/Surgical unit.
"It is wonderful to see how quickly people recover," unit Director Sharon Mallett said. "They are very happy to be going home the same day."
"We have seen the positive results of these improved protocols," Physical Therapist Dan Wheeler from Dan Wyand PT Associates said. "This accelerated approach to their rehabilitation allows the patient to return to their previous state of movement, and potentially an improved version of their functional mobility."
During the COVID19 pandemic, same-day joint replacements have taken on a new importance.
"These patients get to sleep in their own beds that night and wake up in their own beds in the morning," Director of Surgical Services, Pete Tomzack said. "Patients are happier, and it is freeing up beds in the hospital that may be needed for critically ill patients with COVID-19 or other serious conditions."
Northeastern Vermont Regional Hospital © 2020