NVRH Donates PPE to Local EMS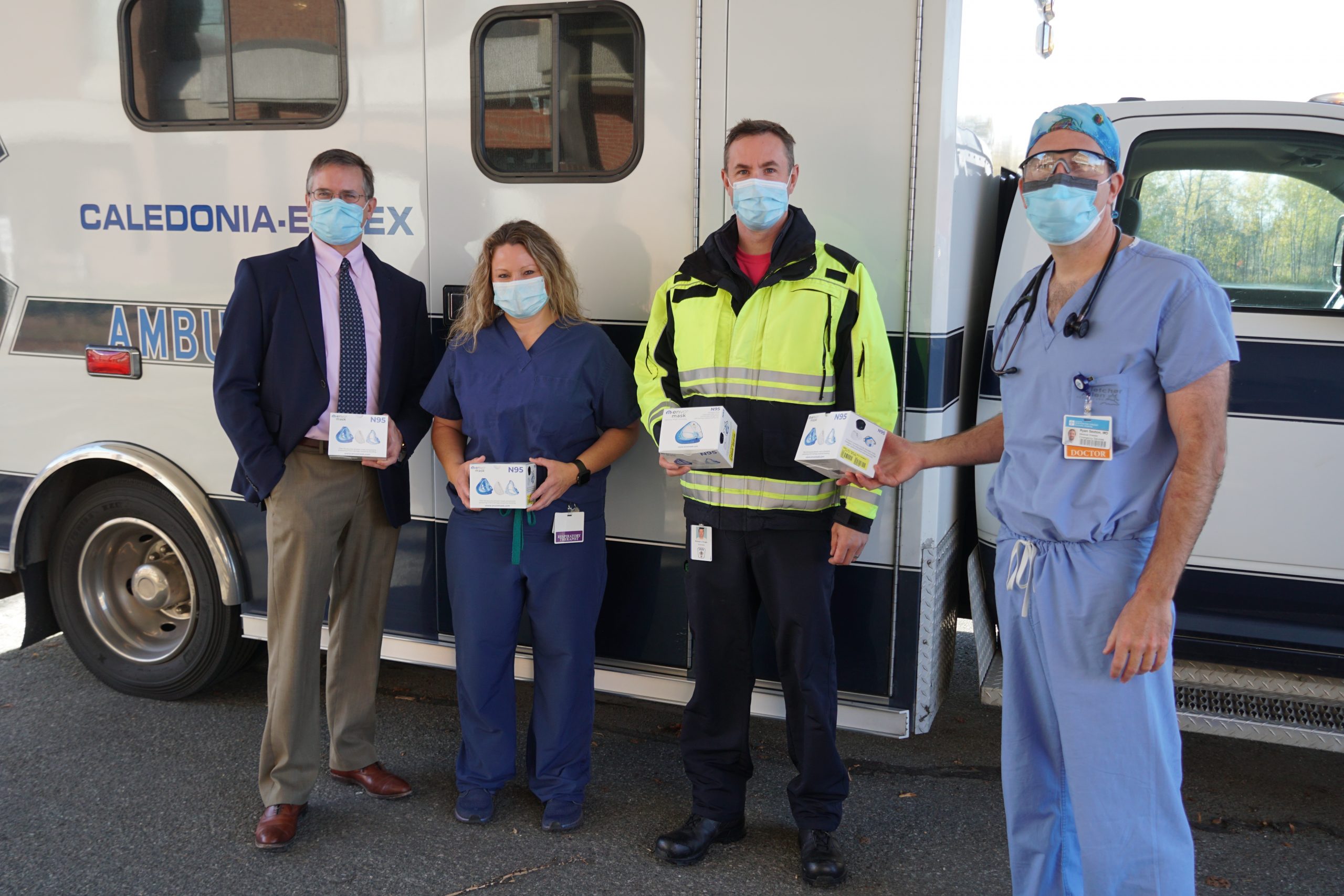 St. Johnsbury (October 15, 2020) – Northeastern Vermont Regional Hospital (NVRH) has donated one hundred reusable N95 masks, called the envo® mask, to local EMS providers including CALEX, Lyndon Rescue, St. Johnsbury Fire Department, Groton/Ryegate EMS, Newbury EMS, and others.
According to the manufacturer's website, Sleepnet Corporation located in Hampton, NH. "the envo® mask is a reusable N95 respirator mask used in trades, industrial environments, and many other NIOSH (National Institute for Occupational Safety and Health) N95 rated applications."
COVID19 spreads most often from person to person contact.  Personal protection equipment (PPE) like masks, gloves, goggle, gowns, and face shields is essential to keep healthcare workers safe from infection during the coronavirus pandemic.  Many of these basic protective supplies were in short supply once the virus came to the US; items were hard to get and prices for some items more than doubled.
"The envo® mask has proven to be an essential component of our personal protective equipment in the emergency department," says Dr. Ryan Sexton, Medical Director for the NVRH Emergency Department. "With this donation to regional EMS agencies, our pre-hospital partners will also benefit from a high level of protection against COVID transmission".
NVRH staff has been using these masks for several months.  The manufacturer states, and users at NVRH agree, the envo® masks are more comfortable, offer a better seal, and won't fog glasses or goggles.  CassyLynn Janes, RN on the NVRH Medical Surgical Unit says, "I feel safer when wearing the envo® mask.  It fits me better, I can breathe easier, and it is far more comfortable – especially when I have to wear it for long periods of time."
Like all PPE it is important to use and wear the envo® mask using the recommendations of both the manufacturer and the CDC (Center for Disease Control and Prevention). " Making sure the mask fits the user per OSHA guidelines through fit testing, is kept clean per the manufacturer's recommendation, and the filter is replaced is really important." says Heather Nelson, Respiratory Therapist at NVRH. 
 "We greatly appreciate the recent donation of Envo N95 masks, these will not only be beneficial in protecting our staff, but allow a more extended supply as they are reusable and only need to replace the filters which are more readily available then the more common disposable N95 masks", says Michael Wright, CALEX Ambulance Director. "These masks also eliminate fogging which is a common problem especially in our environment" 
"Our EMS partners are so important to us and the community," added Heather Nelson.  "It just makes great sense to give them the same protection as we have."
NVRH supplied the envo® masks as part of their commitment to fund community programs, services, and make financial donations under the community benefits responsibilities.  To learn more about community benefits at NVRH visit nvrh.org.
Northeastern Vermont Regional Hospital © 2020