Doctors Lead By Example By Getting Kids Vaccinated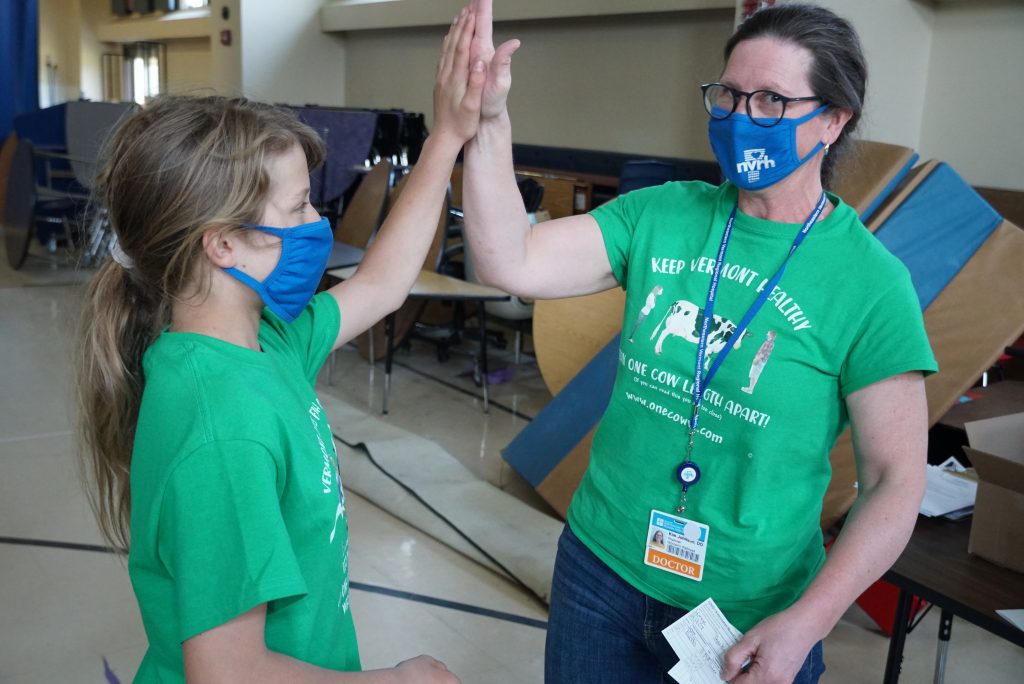 ST JOHNSBURY, VT (May 20, 2021) Now that the COVID-19 vaccine has been approved for children age 12 and up, parents around the country are asking "should I get my kids vaccinated?"  Physicians with children at Northeastern Vermont Regional Hospital are asking too.
"We are parents too," said pediatrician Dr. Josh Kantrowitz from St Johnsbury Pediatrics.  "We have been talking about the vaccine for a long time in our house.  When it came time to decide, it was my daughter Willa who came to us and said 'sign me up'."
This was the first week of school clinics for Michael Wright, Director of CALEX, and his staff.  CALEX has been vaccinating people throughout the Northeast Kingdom since the vaccines were approved in mid-December 2019.  "We will be vaccinating kids in most of the Kingdom East Supervisory Union schools this week," said Wright.  "And we will be back in a few weeks for their second dose of Pfizer."
CALEX vaccinated kids in the Millers Run School in Sheffield on Wednesday.  Soph Hall, RN is the school nurse at Millers Run.  Hall is just one of many school nurses around the state who are coordinating vaccine clinics for children.  "We are excited to partner with EMS to bring the vaccine right to our school to vaccinate the kids," said Hall.  Hall was impressed by how quickly the students signed up and by the willingness of the parents to let their kids get vaccinated.
Dr. Kim Johnson is an Ob/Gyn in the NVRH Women's Wellness Center.  Her children Sisu and Tillie attend the Millers Run School and were vaccinated this week.  As a physician, Dr. Johnson gets questions from patients concerned about how the vaccine may affect puberty in kids, or fertility in women in the coming years.  "There isn't any biological reason that this vaccine would affect puberty or fertility," said Dr. Johnson.  "The vaccine just allows your immune system to recognize the spike protein unique to the coronavirus and then fight it off if it sees it again if you are exposed to COVID-19.  That spike protein is not found anywhere else in your body"
"In our office we get the most questions about what to expect if a child has a food or other allergy," said Dr. Kantrowitz.  "It is still safe for your child to get the vaccine.  If you have an epi-pen, bring it with you.  If your child has had a reaction to other vaccines, be sure to talk to your healthcare provider first."
"This vaccine is safe and effective and important," added Dr. Johnson. Vaccines are an important tool to prevent serious illness and death.  The US and other counties around the world have reduced or eliminated many diseases like polio, small pox, chicken pox, and measles because of vaccines.
General surgeon Dr. Annick Kaufman said she elected to vaccinate her son so he can stay safe, and so it is safe for him to see his elderly grandparents.  "He wanted to get vaccinated so that he can hopefully go five days a week to high school this year," added Dr. Kaufman.
The pandemic has been hard on kids.  Youth in Vermont reported the social isolation, inherent uncertainty, and limits of virtual classes during the pandemic have been particularly hard on them at a time in their lives when they are supposed to be embracing all of life's possibilities.
"Being vaccinated means kids can once again be with friends and family and not worry about someone getting seriously ill," said Dr. Kantrowitz.
For more information about the COVID-19 vaccine for children and adults, visit nvrh.org
Northeastern Vermont Regional Hospital © 2020