Gray Gallery Presents the Danville Art Group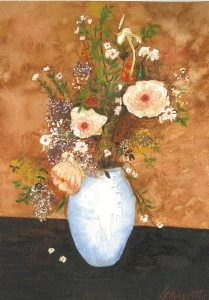 ST. JOHNSBURY, Vt (September 15, 2023) – The Charles M. and Hanna H. Gray Gallery at Northeastern Vermont Regional Hospital (NVRH) is excited to announce its newest exhibit, a show with art by the Danville Art Group. The exhibit, "Fostering Creativity and Skill" opened on Sept. 5 and will run until Oct. 25, 2023.
Located in Danville, VT the Danville Art Studio is more than just a physical space—it's a vibrant community. It cultivates artistic expression, promotes artistic camaraderie, and provides comprehensive instruction in various mediums, including drawing, watercolor, acrylic, and oil painting.
Edward Kadunc heads the studio, and is a seasoned artist and instructor with a passion for nurturing talent. Kadunc teaching philosophy is rooted in developing an understanding of the technical fundamentals and timeless compositional elements of art.
"We envision a place where art enthusiasts can come together, learn, collaborate, and grow," Kadunc said.
Drawing from a rich heritage of traditional techniques, Kadunc imparts knowledge that transcends contemporary trends and ensures a strong artistic foundation.
"Whether you're drawn to the precise lines of drawing, the fluidity of watercolors, the versatility of acrylics, or the depth of oil painting, we offer comprehensive instruction in all these mediums," he added. "No matter your age or experience, we welcome artists at every stage of their creative journey. Our inclusive environment fosters growth and exploration."
The studio hosts both traditional classes as well as interactive workshops that encourage artistic dialogue and collaboration among members. Here, artists share insights, gain inspiration and develop skills in a supportive community.
Part of the studio's commitment to nurturing artists, is providing opportunities for members to showcase their work through exhibitions and events. Artists in the Gray Gallery's exhibit include Lee Casagrande, Mary Q. Bell, Roseanne Drew, Leslie Fredette, Lyn Graham, Ed Kadunc, Lewis Kirshner, Cheryl Lacaillade, Martine Lussier, Nick Marandola, Josiah Marceau, Marilyn McEnery, Cam O'Brien, Catherine Roy, Linda Sherrill, Peter Sinclair, Cathy Smith, Candace Thomas and Bob Swartz.
"Ed Kadunc is amazing," artist Roseann Drew said. "He has an innate ability to meet others wherever they are… Ed steps into that space, and sheds light on whatever aspect of your work you want to focus on."
The Charles M. and Hanna H. Gray Gallery is located on the hospital's main floor. The exhibit will be on display until Oct. 25, 2023. To watch a video tour of the gallery, visit nvrh.org and for more general information, please contact Associate Director of Philanthropy and Art Gallery Curator Jennifer Layn at j.layn@nvrh.org or 802-748-7313.