New Art Exhibit in the Gray Gallery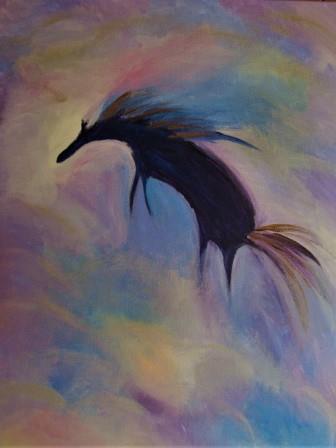 ST. JOHNSBURY, VT (November 10, 2022) – The Charles M. and Hanna H. Gray Gallery at Northeastern Vermont Regional Hospital (NVRH) is excited to announce the opening of its newest exhibit, "Dream Journey" by artist Lynne Berard. The exhibit, which opened on November 11, 2022, will run until January 2, 2023.
For most of her career as a professional artist, Berard – who is self-taught – used watercolors as her preferred medium. She now paints primarily with acrylics, as she finds them to be extremely freeing both in subject matter and in technique.
"One of my favorite techniques is using one brush throughout each painting session, with no rinsing between colors," Berard said. "I work from color to color, blending directly on the canvas. I find this makes the tones and textures richer and more vibrant."
Berard takes creative inspiration from artists Maxfield Parrish, Albrecht Bierstadt and Georgia O'Keeffe.
"My personal lens since childhood has always been that of an artist interpreting the limitless hues of the rainbow," Berard said. "I sincerely believe my life's purpose is to express my highest self through an artistic and colorful lens. I aspire to bring joy through my art and use the healing energy of color for that purpose."
Berard has shown her work in several venues over the years, from craft-shows to local galleries. She currently resides in the Northeast Kingdom.
"Gratitude is one of the many fundamental vibrations from which I create… I am so very grateful for this lovely planet we inhabit and this is manifested in me through my colorful paintings. My highest purpose in life is to raise the vibrational energy of the planet one person at time through color and caring."
The Charles M. and Hanna H. Gray Gallery is located on the hospital's main floor. The exhibit will be on display November 11 through January 2, 2023. You may also view a short video of the exhibit on the Charles M. and Hanna H. Gray Gallery webpage at bit.ly/NVRHGrayGallery. All exhibited art is for sale and a portion of the proceeds benefit the NVRH ARTs program. For more information, please contact Associate Director of Philanthropy and Art Gallery Curator Jennifer Layn at j.layn@nvrh.org or 802-748-7313.