"Beginnings" by Trudy Harran Now on Display in the Gray Gallery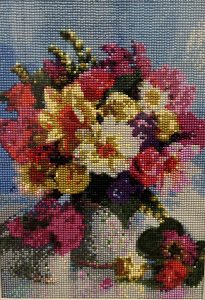 ST. JOHNSBURY, Vt. (November 3, 2023) – The Charles M. and Hanna H. Gray Gallery at Northeastern Vermont Regional Hospital (NVRH) is excited to announce "Beginnings" by artist Trudy Harran. Her collection of diamond paintings will be on display until Monday, December 18, 2023.
According to an article in Toy World Magazine from February 2021, diamond painting is "one of the fastest-growing art & craft activities, fast catching up with perennial favourites such as painting by numbers and jigsaw puzzles."
It involves placing small resin beads known as "diamonds" to a board with adhesive. The practice took off during the pandemic, and many claim that it can serve as a mindfulness practice. 
"The moment I started, I fell head over heels for this form of artistry," Harran said. "There's a unique joy and excitement in witnessing a canvas transform into a vibrant, shimmering masterpiece as you place each colorful bead. It's not just art; it's therapy for the soul."
All of Harran's pieces are carefully sealed to preserve the diamonds, and she has chosen to frame them with plexiglass to ensure both protection and practicality. This choice keeps the pieces lightweight and makes handling and hanging them easy.
"I'm thrilled to present my very first show, aptly named 'Beginnings,'" Harran said. "It marks the start of an exciting journey, and I've handpicked some truly wonderful pieces that I hope will bring as much joy to others as they do to me."
The Charles M. and Hanna H. Gray Gallery is located on the hospital's main floor. This exhibit will be on display until December 18, 2023. You may also view a short video of the exhibit on the Charles M. and Hanna H. Gray Gallery webpage at nvrh.org. All pieces are for sale and 50% of the proceeds benefit the NVRH ARTs program. For more information, please contact Art Gallery Curator Jennifer Layn at j.layn@nvrh.org or 802-748-7313.