Student Art Show Opens at NVRH Gray Gallery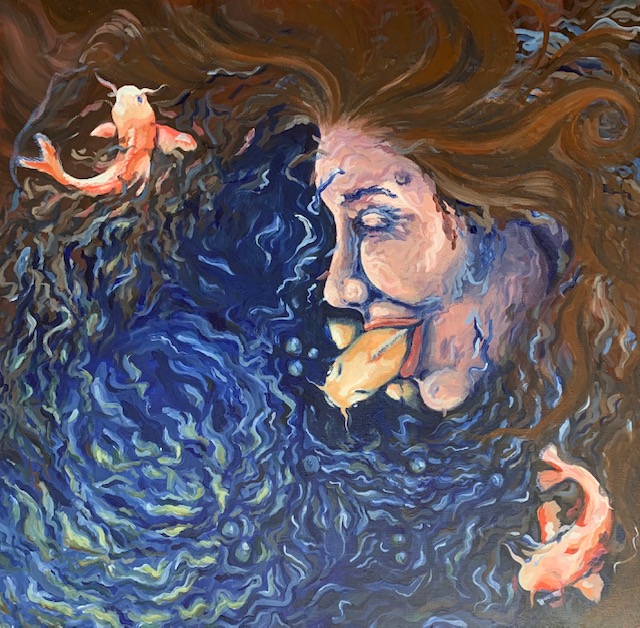 ST. JOHNSBURY, VT (March 1, 2021) – The Charles M. and Hanna H. Gray Gallery at Northeastern Vermont Regional Hospital (NVRH) is excited to announce the opening of its newest exhibit, a student art show on March 4, 2021. The exhibit includes student artists from three high schools and one middle school and will run until April 26, 2021.
Student art comes from the Arlington School, Danville School and Lyndon Institute. In addition to these three high schools, the Cornerstone School 100 Cameras Snapshot Program, thanks to an NVRH Community Health Grant, will be displaying student work.
"The pandemic has been hard on young people," Art Gallery Curator Jennifer Layn said. "Having a creative outlet, and finding artistic ways to make sense of the world is so important."
Students at the Arlington School explore visual arts as a part of their social and emotional growth. The arts program is designed to teach technical skills with an emphasis placed on self-reflection and personal expression. The arts program is also integrated into student's core and elective classes allowing for a deep and individual connection to their world. Instructor Robin Wimbiscus is a professional artist, and educator for over thirty years. She is also the Assistant Director at The Arlington School.
Through serious application, relevant experiences, and professional guidance, students enrolled in a visual arts course at Lyndon Institute learn self-discipline and freedom of expression through a wide range of artistic opportunities. Simultaneously, thanks to their instructors, Cynthia Camber and Bridget Atkins, they gain preparation for college, a professional career in the arts, or the opportunity to enjoy and explore visual art.
Danville High School Visual Art students explore a range of mediums, techniques and art history. Two works of art, both by current 12th grade students, were created during their dual enrollment course through Southern New Hampshire University. This program allows students to earn college credit, and to explore advanced level studies while in high school.
"While our hybrid schedule has posed some challenges, students have embraced their at-home studio time, and have created some amazing pieces," Danville School teacher Abigail Bartell said.
Through a grant from the NVRH Community Health Fund, middle school Students at the Cornerstone School, which is a therapeutic school serving students K-8, administered by Northeastern Family Institute Vermont, were able to participate in the 100 Cameras Snapshot Program. Students were provided with cameras, memory cards, and instruction to enable students to tell their story of life during the pandemic through pictures. They learned to see their world from a new prospective and have documented their individual journeys as seen and felt through their own experiences.
"Through this program, we can equip students to see their perspectives and community contributions being uplifted onto a global platform, showing themselves that today, and always, they are the bigger picture," Jeanne Graham of the Cornerstone School said.
The Charles M. and Hanna H. Gray Gallery is located on the hospital's main floor. The exhibit will be on display March 4 through April 26, 2021. For more information, please contact Associate Director of Philanthropy and Art Gallery Curator Jennifer Layn at j.layn@nvrh.org or 802-748-7313.
Northeastern Vermont Regional Hospital © 2020