Nic Tremblay, OPTA
Northern Physical Therapy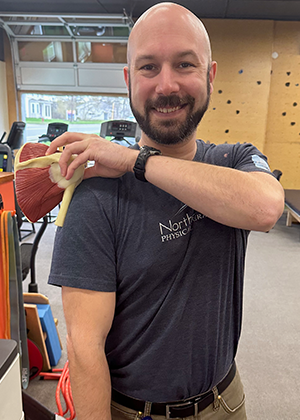 Northern Physical Therapy
569 Main Street
Lyndonville, Vermont 05851

Nic always knew that he wanted a career that made a difference in people's lives but didn't know what. After exploring music therapy, working ski patrol, and considering radiologic technology he finally came to physical therapy. Having had a personal trainer as a roommate in his early twenties he quickly became interested in his own personal health and fitness. The next step was intuitive and before he knew it he went back to school to become a physical therapist assistant!
Working side by side with therapists that were not only skilled in the profession but also had great and hilarious personalities to boot was the ticket for Nic. This was where he needed to be. Now, he is happy to work with new people every day helping them move and groove a little better!
You can find Nic downhill skiing in the winter and kayaking in the summer. He enjoys home projects, audiobooks (the more fantastical the better), and playing lead guitar in his metal band, Bearded Belligerents.