NVRH Auxiliary Presents Scholastic Achievement Awards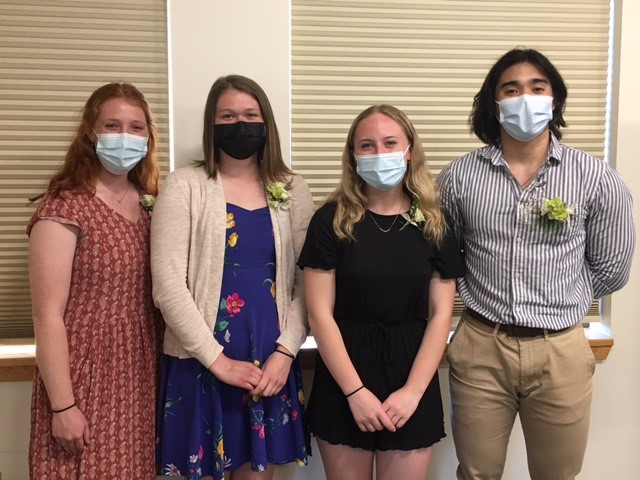 Local students receive Scholastic Achievement Awards from NVRH Auxiliary on Friday, May 14, 2022. L-R: Delaney Payeur, senior at Southern Maine Community College, radiologist technician, $2,500; Kadienne Whitcomb, freshman at NVU-Lyndon, exercise science, $1,000; Liza Morse, UVM, Biology, $1,000; and Lance Abella, senior at Franklin Pierce University, Health Science, $2,500. (Missing from photo is Olivia Matteis, UVM Nursing, BSN, $2,500).
ST. JOHNSBURY, VT (May 18, 2022) – The Northeastern Vermont Regional Hospital (NVRH) Auxiliary announced the five recipients of the Scholastic Achievement Awards, which totaled $9,500 and is presented annually to both high school and adult students who are pursuing a career in healthcare, on Friday, May 13.
Scholastic Achievement Award Committee Chair Beulah McGinnis presented a $2,500 award to Delaney Payeur of Waterford (Radiology Technician), Lance Abella of St. Johnsbury (Health Sciences), and Olivia Matteis of East Burke (BSN, Nursing). Kadienne Whitcomb of West Burke and Liza Morse of Danville each received a $1,000 award as well. Whitcomb will be attending NVU-Lyndon to study Exercise Science. Morse will be attending UVM and to study Biology.
The NVRH Auxiliary also held their Annual Scholastic Achievement Award Raffle drawing. All proceeds of the raffle supported the NVRH Scholastic Achievement Awards.
The winners were:
Ted & Susan Houle – $300 cash, donated back to the Auxiliary
Mike Matteis – $200 cash, donated back to the Auxiliary
Carl Erickson – $100 cash, donated back to the Auxiliary
Diana Gibbs – Stratton Mountain golf certificate
Anne Cowles – 2 View from the Kingdom Flights with Bill Humphrey and Vinnie Matteis
Gail Roberts – View From the Kingdom Flight with Jim Gregory
Mike Rousse – Smuggler's Notch Bash Badge
Laural Ruggles – Jay Peak Resort Pumphouse Pass
Tiffany Kendall – Kingdom Mountain Trails day pass
Kaylee Greene – Kingdom Mountain Trails day pass
Cindy Gordon – Handmade sweater
Laurel St. James – Handmade sweater
Samantha Gale – 2 Handmade baby sweaters
Charlotte Hutchins – Vermont Teddy Bear "Doctor Bear"
Jackie Dadourian – Cherry Wheel Gift Shop gift certificate
The NVRH Auxiliary is actively recruiting volunteers for the information desk, the gift shop, mammography department, dietary department, Reiki and music services, laundry, administrative and business offices, knitting and of course, the Board of Trustees. Anyone interested in volunteering at NVRH should visit www.nvrh.org/volunteer and call the Volunteer Services department at 748-7310.
Northeastern Vermont Regional Hospital © 2020