New provider joins NVRH Palliative Medicine Clinic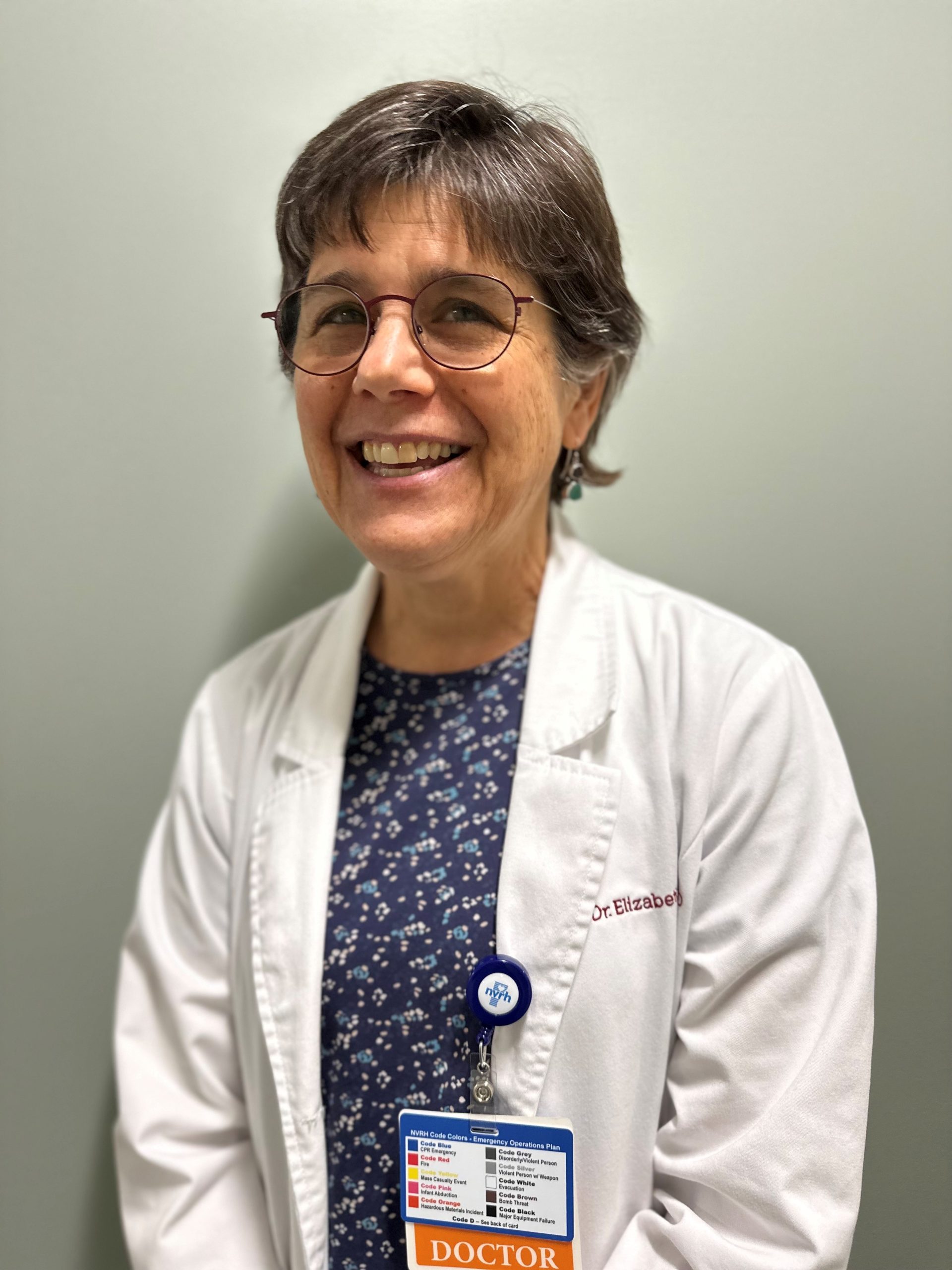 ST. JOHNSBURY, VT (February 8, 2023) – Northeastern Vermont Regional Hospital (NVRH) is excited to announce that palliative care provider Elizabeth Newman, MD, has joined the NVRH Palliative Medicine Clinic which supports the medical, emotional, social, spiritual, and comfort needs of patients dealing with a serious and challenging illness.
Dr. Newman has been practicing family medicine for 34 years and palliative care for three years. She received her undergraduate degree from the Massachusetts Institute of Technology (MIT), attended the Albert Einstein College of Medicine, and completed her resident in family medicine at the University of Vermont Medical Center in 1988. She is Board Certified in family medicine, hospice and palliative medicine.
Dr. Newman began her work in palliative care after recognizing that it was much needed within the patient population she served.
"Working as a family physician, my patients were aging and I found myself increasingly reaching out to a local palliative care physician for guidance in helping my patients and their families," Dr. Newman said. "Their advice and support was wonderful and I realized that palliative medicine was so helpful. So I decided to take a sabbatical and undertake a one year fellowship to get the training I needed to become a certified hospice and palliative medicine physician."
Dr. Newman spent the first ten plus years of her medical career at Porter Medical Center in Middlebury, Vermont.
"I loved the smaller rural hospital community," Newman said. "During my palliative medicine fellowship, I spent as much time as possible in smaller community hospitals and working with rural home health agency teams. I envisioned that my ideal job would be working for a small rural hospital in Vermont doing both inpatient and outpatient palliative medicine as well as hospice."
Although very few hospitals – let alone small critical access hospitals – offer such opportunities, NVRH offers all of this plus home visits to palliative care patients.
"NVRH's level of support of palliative care is unique," Dr. Newman added. "Some hospitals have a strong inpatient palliative consult service. Other hospitals have special rooms for end-of-life patients. A few offer palliative consultation at nursing homes. But none that I am aware of offer all of these services like NVRH. I was impressed to see that support of palliative medicine is even in NVRH's mission statement."
2023 marks the 10 year anniversary of the Palliative Care practice. When the practice began in 2013, there were two physicians working part-time. In the first month they saw about 10 patients.
"Over the years, as the community has learned about our specialty and the value it adds to someone who is experience a life-limiting disease, we have seen palliative care grow and grow," Palliative Medicine Clinic Director Sarah Winans said. "We now are able to see over 100 patients a month. I am very excited about the perspective Dr. Newman brings to our team, her passion for our patients and that together, we can continue to grow our practice and help our community even more."
Dr. Newman looks forward to getting to know the community and connecting with home health agencies, community support agencies and the Council on Aging. In her free time, she enjoys being with her friends and family, hiking, biking, Nordic skiing, gardening and playing music.
For more information about the NVRH Palliative Medicine Clinic, which is located in the Bloch Building, 1080 Hospital Drive in St. Johnsbury, visit nvrh.org.