New art exhibit opens at NVRH Gray Gallery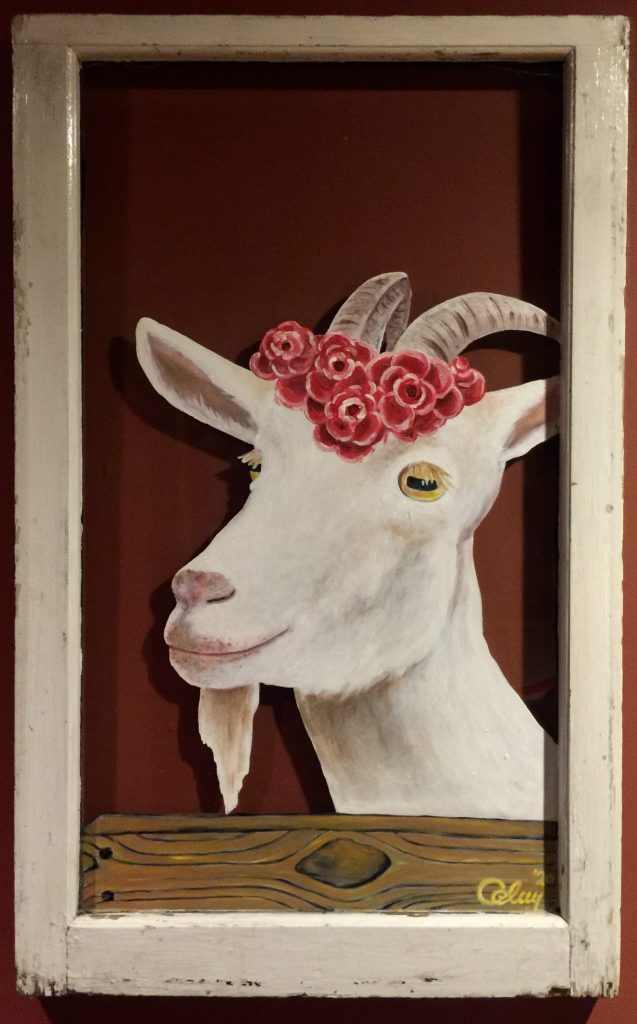 ST. JOHNSBURY, VT (January 5, 2021) – The Charles M. and Hanna H. Gray Gallery at Northeastern Vermont Regional Hospital (NVRH) is pleased to announce a new display by Greensboro artist Isa Oehry. The exhibit, which opens January 7, will run until March 1, 2021.
Isabella (Isa) S. Oehry, who was born and raised in the Principality of Liechtenstein, works as a writer and artist at her farm in Greensboro, Vermont. She loves the beauty and simplicity of farm life and enjoys rescuing old barn windows from their destined destruction at a dump, upcycling them into folk art.
An old, single pane window gets a new purpose. Oehry paints them with acrylic paint and leaves a large section of the glass unpainted. The paintings then hang against the wall and the unpainted section of the painting reflects the color of the wall. And, depending on the color of the wall, the character of the painting can change drastically.
"My main goal is to bring a smile to the faces of viewers," Oehry said. "I love painting humorous farm animals and living on a farm in Vermont provides endless inspiration."
The Charles M. and Hanna H. Gray Gallery is located on the hospital's main floor. The exhibit will be on display until March 1, 2021. Due to COVID-19, please visit the exhibit in person only when you have a healthcare appointment at the hospital. You may also view a short video of the exhibit on the Charles M. and Hanna H. Gray Gallery webpage at nvrh.org/the-charles-m-and-hanna-h-gray-gallery.
All exhibited art is for sale and a portion of the proceeds benefit the NVRH ARTs program. For more information, please contact Associate Director of Philanthropy and Art Gallery Curator Jennifer Layn at j.layn@nvrh.org or 802-748-7313.
Northeastern Vermont Regional Hospital © 2020