Jeanne Nummelin of St. Johnsbury Pediatrics Receives J. Ward Stackpole, MD Recognition Award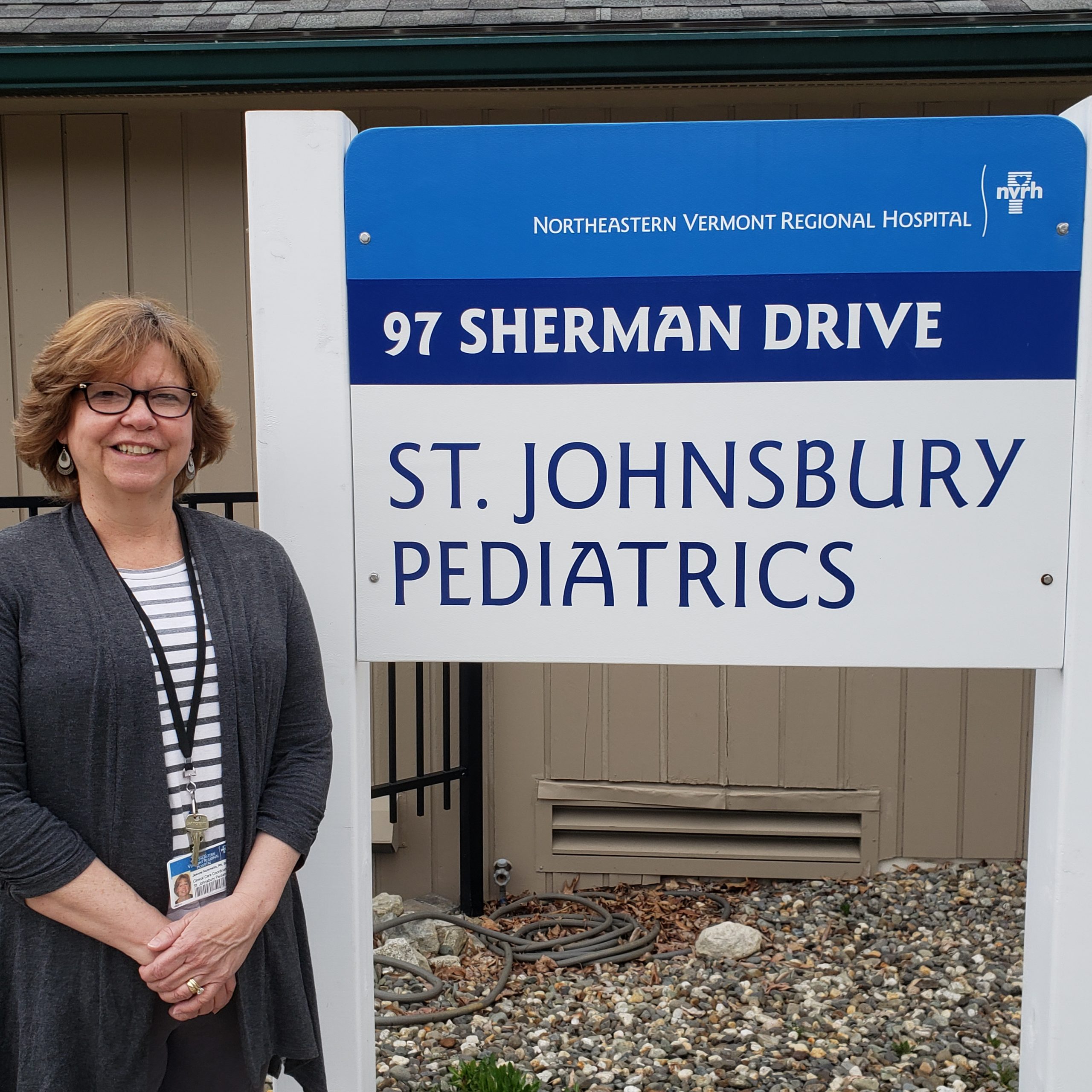 The Vermont State School Nurses' Association (VSSNA) has awarded Jeanne Nummelin, RN care coordinator at St. Johnsbury Pediatrics the 2020 J. Ward Stackpole, MD Recognition Award.
Nummelin has been a nurse for 35 years. For the last 20 years, she has been part of the St. Johnsbury Pediatrics team. There she has been a floor nurse, triage nurse, and most recently, a clinical care coordinator. She has participated in many Vermont Child Health Improvement (VCHIP)/Child Health Advances Measured in Practice (CHAMP) improvement projects and has helped to maintain St. Johnsbury Pediatrics as a Patient Centered Medical Home through meeting the National Committee for Quality Assurance (NCQA) standards.
"As clinical care coordinator, one of my passions has been providing patient-centered care through improving communication and collaboration with our local schools," Nummelin said. "I am often the point of contact between a clinician, the school, and the family, receiving phone updates, attending school meetings, talking with families about resources they may need or how we can work together to improve their child's overall health and well-being."
Each winter, the VSSNA asks Vermont school nurses to nominate a health professional who is an extraordinary supporter of their work. The award is presented to individuals who are not school nurses, but who support school nurses' commitment to child health.
Comments received in support of Nummelin's nomination include,
"Jeanne plays a critical role in supporting area school nurses by attending IEP, 504 and other student meetings, as well as attending monthly school care coordination meetings"; "Jeanne has daily phone communication with nurses and makes our lives easier through prompt communication and timely return of orders"; and "Jeanne is a champion of school nurses and works tirelessly through communication and collaboration to support children at school."
The VSSNA created the Stackpole award in 2000 to honor Dr. James Stackpole and recognize his work in creating and working for 34 years as chair of the Vermont School Health Advisory Committee. Dr. Stackpole supported school nurses because he supported children's well-being and safety and believed that school nurses were needed to keep kids in school.
"I have the honor of conveying the Stackpole Award to the recipient annually," president of the VSSNA Sophia Boyle Hall said. "This year I am especially honored to present the award to someone I know and work closely with. Jeanne's professionalism, knowledge and expertise are valuable to our school children and our school nurses."
Nummelin uses a variety of services and resources to provide support and guidance to families to advocate and engage them in their plan of care.
"Jeanne helps identify goals with her patients that include their strengths and challenges," Practice Manager Cheryl Stahler said. "She is a very important part of our team at St. Johnsbury Pediatrics."
VSSNA intended to recognize Jeanne with this award at the spring 2020 School Nurse Conference. Due to COVID-19, the conference has been postponed until October 2020.
St. Johnsbury Pediatrics is offering in-patient appointments and telehealth options. To learn more, call 748-5131.
Northeastern Vermont Regional Hospital © 2020