New Art Exhibit Featuring Cynthia DeKett Opens in the Gray Gallery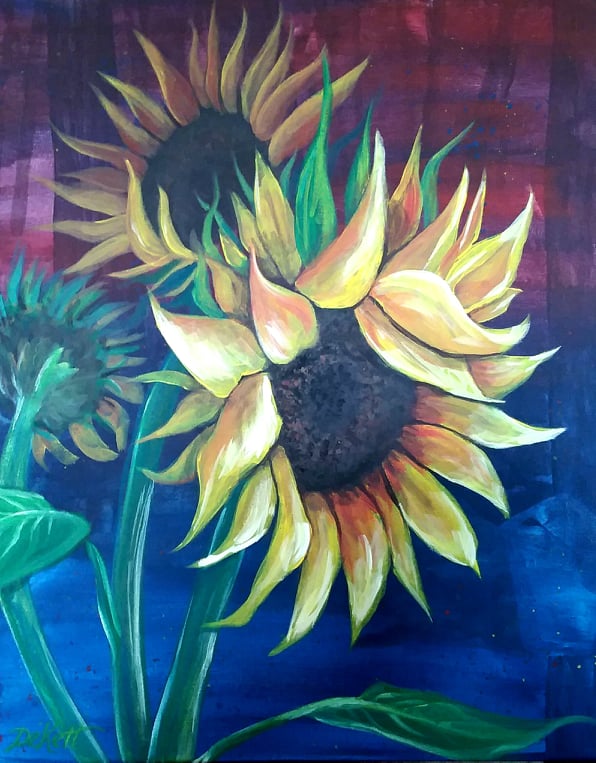 ST. JOHNSBURY, VT (August 12, 2021) – The Charles M. and Hanna H. Gray Gallery at Northeastern Vermont Regional Hospital (NVRH) is pleased to announce a new display by artist Cynthia DeKett. The exhibit, which opens Thursday, August 19, will run until October 11, 2021.
DeKett, who is originally from northern Michigan, specializes in portraiture. Lately she has been playing with landscapes and floral paintings. She is a 1982 cum laude graduate of Ferris State University's Commercial Art program, and has studied independently under artists Margaret Tvedten, Pat Deadman and Stephen Huneck. In 1988 she completed instruction through the Institute of Children's Literature in Redding Ridge, CT.
DeKett has provided private art instruction for elementary school students in Harbor Springs, MI, and for various adults and local homeschoolers, as well as working in a variety of art related and teaching fields including managing an art gallery, framing shop, kitchen & bath design showroom, and as head painter for the Stephen Huneck Gallery. She is currently in her year of teaching art at the Good Shepherd Catholic School.
"Most of my time, of course, is spent preparing projects for my students with an emphasis on creatively upcycling materials," DeKett said. "Nothing gives me more pleasure than turning something that would normally be discarded into a beautiful work of art."
DeKett also works from home as a freelance and fine artist, writer and author. Also known as the author of Emrysia: The Three Sisters Trilogy (Emrysia Awakening, Lament & Endurance), DeKett goes by the name C.A. Morgan.
She is a staunch supporter of the arts and local libraries, having donated numerable hours painting scenery for Vermont Children's Theater, as well as several pieces of artwork. Current projects include completing illustrations for her children's book on the fears associated with diagnostic testing, which she hopes will raise funds for CHAD (Children's Hospital at Dartmouth); rounding out her trilogy with a prequel and sequel and making art furniture.
The Charles M. and Hanna H. Gray Gallery is located on the hospital's main floor. The exhibit will be on display until October 11, 2021. Due to COVID-19, please visit the exhibit in person only when you have a healthcare appointment at the hospital. You may also view a short video of the exhibit on the Charles M. and Hanna H. Gray Gallery webpage at nvrh.org/the-charles-m-and-hanna-h-gray-gallery.
All exhibited art is for sale and a portion of the proceeds benefit the NVRH ARTs program. For more information, please contact Associate Director of Philanthropy and Art Gallery Curator Jennifer Layn at j.layn@nvrh.org or 802-748-7313.
Northeastern Vermont Regional Hospital © 2020