NEK Elder Residents Benefit from Blizzard Bags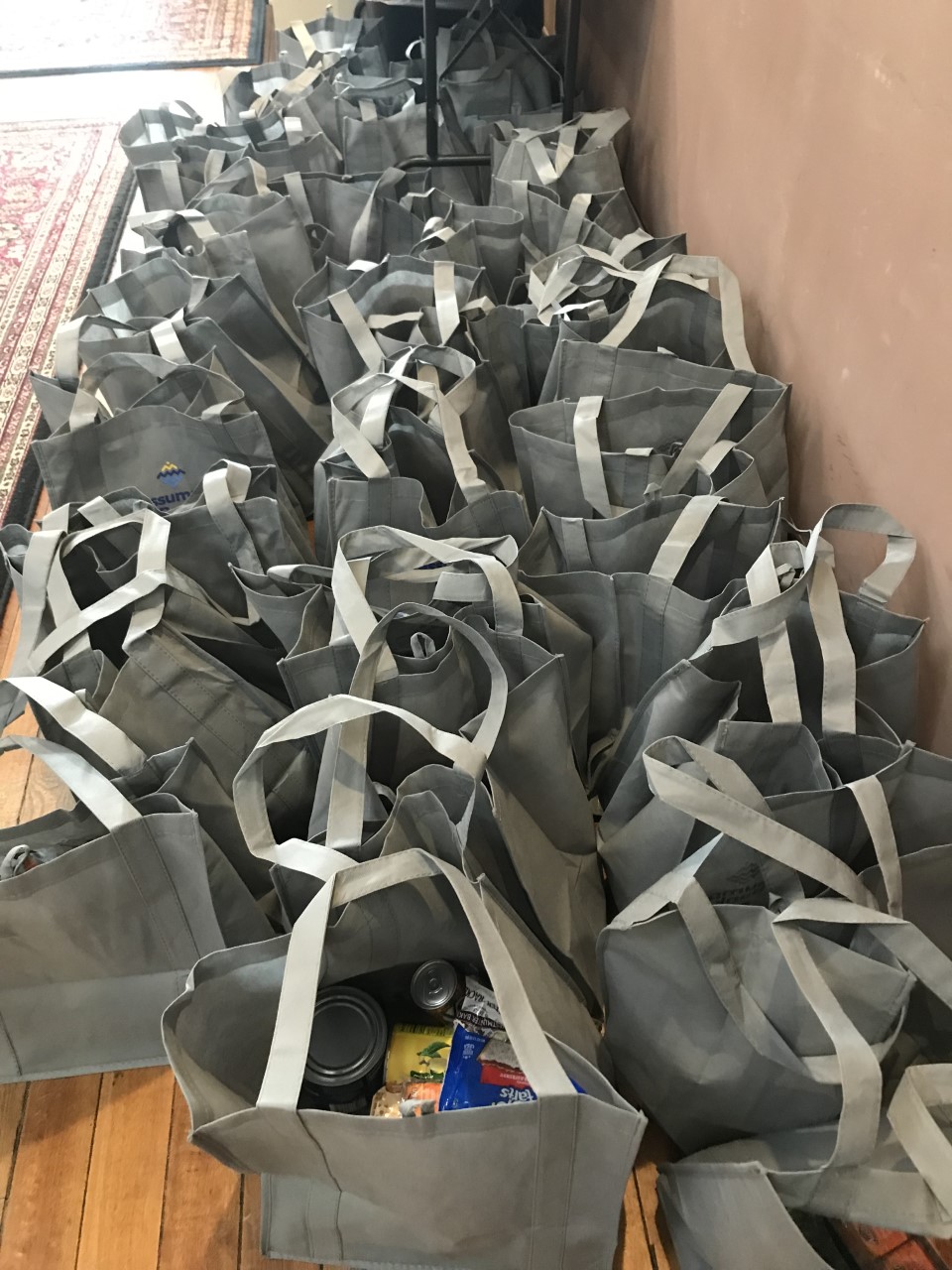 Hundreds of elder Northeast Kingdom residents are receiving emergency blizzard bags of shelf stable food and beverages thanks to a joint project from the NEK Council on Aging, Passumpsic Bank, Northeastern Vermont Regional Hospital (NVRH), and North Country Hospital. Each "Blizzard Bag" is filled with a one-day supply of emergency food and beverage. The bags are distributed to NEK Council on Aging home delivered meal recipients. The Passumpsic Bank coordinated funding of the project with their hospital partners.
The Blizzard Bag partnership with the NEK Council on Aging and Passumpsic Bank started in 2017 when the existing Council's emergency food bag program was threatened due to budgetary constraints. Passumpsic Bank reached out to the Council to offer assistance. They partnered with NVRH to coordinate the first Blizzard Bag packing party. It was held at the hospital with volunteers from Passumpsic Bank, NVRH, and the NEKCOA.
"Passumpsic Bank believes in giving back to the communities we all call home and enjoys partnering with organizations that share our view." states Barbara Schoolcraft, VP/Marketing "Also, knowing that homebound seniors will have shelf stable food for those times when the Meals on Wheels drivers can't make deliveries due to adverse weather conditions is very rewarding."
This year, food and beverages were delivered to two locations for packing, 300 bags were packed in Derby at the Cornucopia meal site and 300 bags at the St. Johnsbury office of the NEK Council on Aging. Eleven volunteers helped in the endeavor. The packed bags were distributed to 14 senior meal sites that partner with the NEKCOA.
"NVRH is committed to ensuring that local needs are met with local solutions," shared Diana Gibbs, VP of Marketing and Community Health Improvement. "As a non-profit, community-based healthcare system, we value our partners who have a shared commitment to identifying needs and developing innovative programs, services, and solutions that reduce inequities experienced in our community."
"Every year we send out a request for volunteers to help pack and distribute the bags and we are never disappointed," said Meg Burmeister, Executive Director of the NEKCOA. "We are grateful for the outpouring of assistance to lend a helping hand."
The program has grown to include North Country Hospital and meal site partners in the northern NEK. Staff from Passumpsic Bank have served to fill the bags until the pandemic hit in 2020. This year, NEKCOA staff and the assistance of over a dozen volunteers helped to fill the bags.
"We are so grateful for the Blizzard Bag program expanding again this year, to include more bags for seniors in need of food," added Wendy Franklin, Director of Communications & Foundation at North Country Hospital. "Many hands make small work, and this is all possible through our collaboration with the NEK Council on Aging, Passumpsic Bank, and NVRH."
Northeastern Vermont Regional Hospital © 2020