Behavioral Health Specialist Allison Hansen, MSW, LICSW joins St. Johnsbury Pediatrics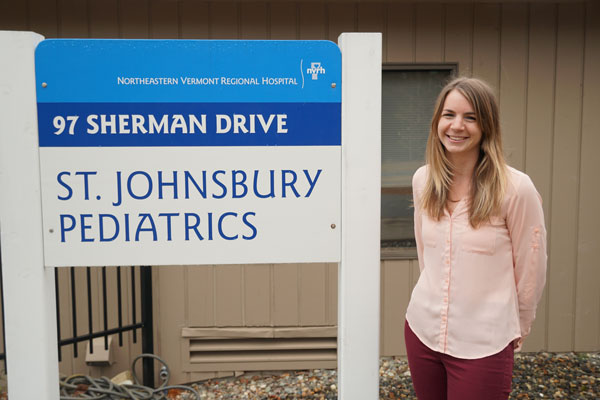 St. Johnsbury (October 19, 2020) – Northeastern Vermont Regional Hospital (NVRH) welcomes Allison Hansen, MSW, LICSW to the care team at St. Johnsbury Pediatrics.  Hansen received her Masters of Social Work from Metropolitan State University in Denver, Colorado with a concentration in families, youth, and children.
Hansen will work with the medical providers, nurses, and care coordinators at St. Johnsbury Pediatrics to offer holistic care for young patients.  "I am interested in infant and early childhood mental health," says Hansen.  "I believe starting early is the key to managing stress for a lifetime."
Prior to coming to the Northeast Kingdom, Hansen saw children and teens in a community mental health center in Colorado.  She has experience in providing therapy in families' homes, schools, and leading educational events in the community.  She likes to use play therapy, sand trays, and other experiential therapies in her work.
"Integrating Behavioral Health with our providers and staff at St. Johnsbury Pediatrics will allow us to provide a higher quality of care to our community," says Cheryl Stahler, Practice Manager at St. Johnsbury Pediatrics. "Allison is a great addition to our team."
While Hansen, her husband, young son, border collie, and two cats are looking to buy a home in the area, they already feel very much at home here and love being active outside in the rolling hills and mountains of Vermont.  To her current and future patients Hansen says "thank you for allowing me to know your family's personal stories.  It's an honor and privilege to be trusted in that way, and I will partner with you to improve your family's wellness."
Northeastern Vermont Regional Hospital © 2020