Orthopaedic Surgeon Rick Gagnon Retires After 38 Years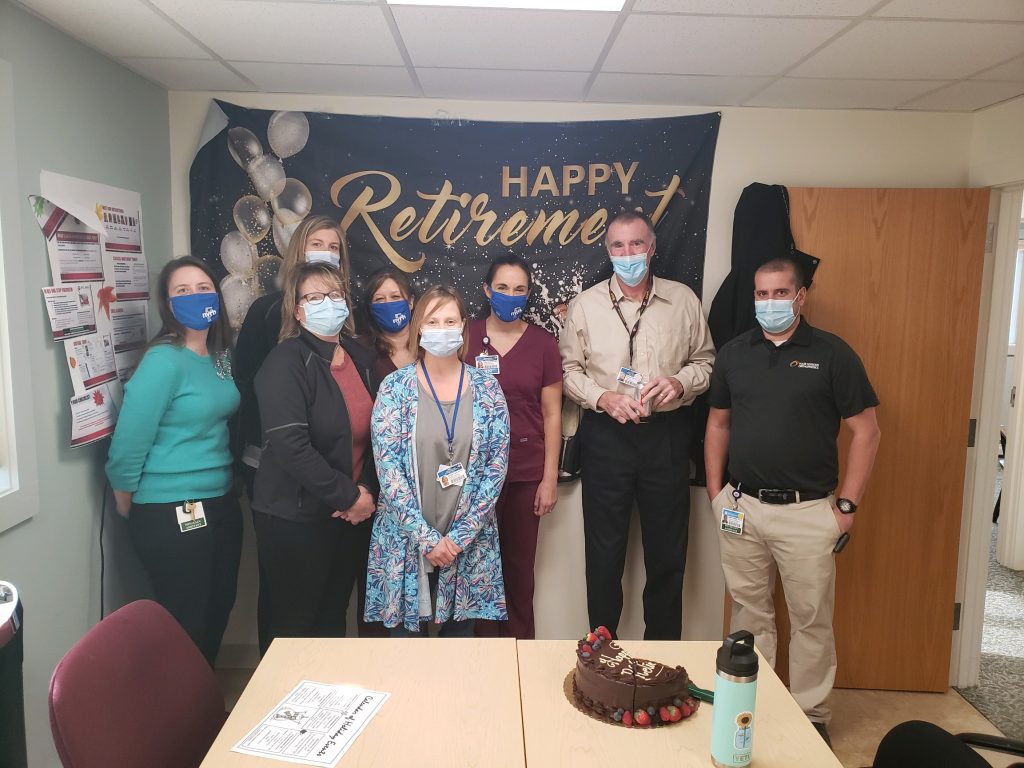 ST. JOHNSBURY, VT (January 15, 2021) – After close to 40 years, Rick Gagnon retired from active practice at Northeastern Vermont Regional Hospital (NVRH) Four Seasons Orthopaedics on December 9, 2020.
Gagnon began practicing at NVRH immediately after he completed his orthopaedic residency in Detroit, in July of 1982.
Many things have changed since he came to the Northeast Kingdom. When he began, all the physicians were in private practice. Today, most physicians are employed by hospital or other organizations.
"There were no dedicated emergency physicians on site at NVRH," Gagnon says. "Primary care physicians covered the emergency room from their offices and homes. There were no hospitalists. The surgeons treated medical problems that occurred in their patients. If they needed more help, they consulted a primary care doc. So, you had to take care of the whole patient, not just perform their surgery."
This meant treating heart attacks, arrhythmias, strokes, blood clots, heart failure, kidney and liver failure, alcohol withdrawal, as well as many other conditions.
"I even first assisted on five emergency C-sections, including my youngest son's," Gagnon added. "There was a shortage of manpower and everybody had to pitch in and help when needed. There is still a shortage of medical manpower in rural areas like ours, but much less than 38 years ago."
Gagnon refers to the time he started in orthopaedics as the "dark ages." And this is for good reason: prior to his arrival at NVRH, there had been only one other orthopaedic surgeon. He was told by other family care providers that the need for orthopaedic care in the Northeast Kingdom was great, and he found their assertions to be true: Gagnon was overwhelmed with patients within six months.
"I needed help quickly," he remembers. "So I recruited Dr. Craig Dreisbach."
Gagnon had known Dreisbach, who retired from Four Seasons Orthopaedics in December 2019, as a medical student and later as his junior resident at Henry Ford Hospital.
11 years ago, Gagnon sold both his office building and its land to NVRH and became an official employee of the hospital. Since 2010, much has changed: the building was expanded and renovated, X-rays went digital, making them more accessible for diagnosis and the practice was rebranded from The Orthopaedic and Fracture Clinic to Four Seasons' Orthopaedics. But some of the biggest changes involved new equipment and procedures.
"Orthopaedics is an equipment-intensive specialty," Gagnon says. "We can accomplish great things with proper equipment. NVRH has always supported obtaining the newest equipment for orthopaedic surgery."
Injuries that used to require immobilization to heal now can be fixed almost immediately, allowing a patient to move. For example, when Gagnon began his residency in 1977, femur fractures were treated in skeletal traction for 6-8 weeks. Now a metal rod is placed down the shaft of the femur, allowing patients to bear weight immediately.
"What I enjoyed the most about surgery was the feeling of accomplishment from a successful procedure," Gagnon says. "There is tremendous immediate gratification from fixing something; whether a diseased joint, a broken bone or torn tendon or ligament."
When Dreisbach was contemplating retirement, Gagnon recruited Dr. Matthew Prohaska.
"Dr. Prohaska has brought new ideas and energy to orthopaedics at NVRH," Gagnon adds. "Prohaska, in turn, has recruited Dr. Jeremy Korsh. Together they will continue to provide more new techniques and innovations to the practice."
"It is rare to find surgeons who have practiced as long and as well as Dr. Gagnon has, covering nearly the full breadth of orthopedic conditions," Orthopaedic Surgeon Dr. Jeremy Korsh said. "I feel very fortunate to have been able to overlap with him at the start of my career here at NVRH.  He has been a tremendous resource for case discussion, surgical technique, and I have benefited greatly from his immense experience."
Gagnon will miss the patients, the surgeries, and the technical aspects. He will also miss the camaraderie of the surgical team.
"All of us focused on getting the best result for the patient. I enjoyed teaching orthopaedics to PAs, NPs, radiology techs, OR staff, med students, and med explorers from high school."
"Dr. Gagnon has been a committed and valued member of our community for close to forty years, and we will miss him very much," NVRH CEO Shawn Tester said. "All of us at NVRH wish him the very best as he begins this exciting new chapter."
As soon as the COVID-19 pandemic is under control, Gagnon plans to travel and see more of the USA. He also wants to hug his grandchildren who live in another state.
"Lastly, I want to play more golf in retirement."
Northeastern Vermont Regional Hospital © 2020