Prevention Center of Excellence Grant
Together, we can build a prevention network.
NVRH has teamed up with Umbrella to implement the Prevention Center of Excellence's Grant program in the Northeast Kingdom.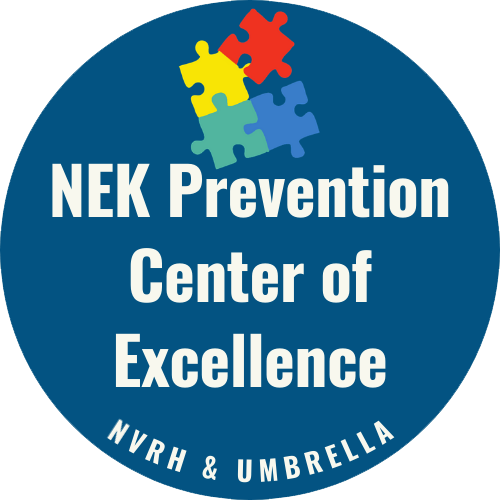 This program is a one-year grant award with goals to reduce underage drinking, high-risk alcohol consumption, marijuana and tobacco misuse, prescription drug and stimulant misuse, illicit stimulant and opioid use. Funds will go towards staffing, analysis, workforce development, and evaluation of archival data. Funds will also include sub-awards that will go towards local partners whose missions support the goals outlined above. The request for applications is now available.
Learn more.
Contact program managers Cheryl Chandler and Amanda Cochrane. Click here or email them at PCE@nvrh.org. 
 Request For Applications Now Available!
Update: The Letter of Intent is no longer required. If you have not submitted a Letter of Intent, you are still eligible to apply for this grant. 
Steering Committee
A Steering Committee has been appointed to bring unique knowledge and skills and multi-sector input to the Prevention Center of Excellence Grant Project.
Members include:
Lila Bennett, Executive Director, Journey to Recovery Community Center
Susan Cherry, Executive Director, Community Restorative Justice Center
Michael Costa, CEO, Northern Counties Health Care, Inc.
Lon Davis, Catamount Arts Open Stage Program
Karen E. Geraghty, Economic Development Specialist, Northeastern Vermont Development Association
Sheriff Jennifer L. Harlow, Orleans County Sheriff's Department
Jim Kisch, CEO, President, Passumpsic Bank
Suzanne Legare-Belcher, Field Services Director, Newport and St. Johnsbury Districts, Vermont Agency of Human Services
Chantelle Paradise, Recovery Coach, Kingdom Recovery Center
Laurna Noyes, ECSD, Deputy/SIU/Office Administrator, Essex County Sheriff's Department
Samantha Stevens, M. Ed., Equity and Community Outreach Coordinator, North Country Supervisory Union.
Documents
Northeastern Vermont Regional Hospital © 2020