Prevention Center of Excellence Grant
Together, we can build a prevention network.
NVRH has teamed up with Umbrella to implement the Prevention Center of Excellence Grant program in the Northeast Kingdom.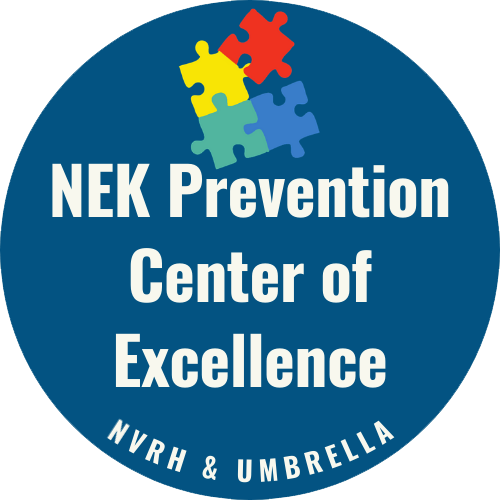 The goals of this initiative are to reduce underage drinking, high-risk alcohol consumption, marijuana and tobacco misuse, prescription drug and stimulant misuse, illicit stimulant and opioid use. In addition to the substances listed, this grant will serve to build substance use primary and secondary prevention capacity and infrastructure at the community and regional levels.
As one of the primary strategies to address the goals above, the NEK Prevention Center of Excellence (NEK PCE) will grant funds to community-based organizations, schools, and other community partners through both noncompetitive and competitive processes.  Please refer to the NEK-PCE Strategic Plan for more detail. 
FY 2021 Grantees
NEK Youth Services received $25,000 to increase staff learning through a "Train the Trainer" with Outright Vermont focused on supporting youth within the LGBTQA+ community as well as training focused on implicit bias and inclusive practices, among other prevention activities.
Catamount Film & Arts Co. received $12,876 to support their Open Stage program which will provide a safe and creative social environment for students to heal and grow as they learn to reintegrate socially post-COVID.
Big Brothers Big Sisters of VT Inc. received $25,000 to provide activities, materials, and community engagement opportunities for mentor matches to participate in that are designed to promote resiliency in youth, develop healthy coping skills, provide an outlet for creativity, and build upon teamwork and leadership skills through a DEI lens with the culmination of a community wide prevention campaign/ activity led by the youth.
North Country Supervisory Union Encore After School and Summer Programs received $23,273 to hire 7 Behavioral and Social Emotional Learning Leaders who will support 7 summer program sites.
The Community Restorative Justice Center, Inc. received $15,000 to support 20 teachers from schools in Caledonia and Essex counties in attending the Summer Institute for Restorative Practices.
Northwoods Stewardship Center received $18,975 to launch their Junior Counselor program which will engage young teens in an empowering program focused on building confidence, connection to place and each other, communication strategies, outdoor skills, and resilience.
Link Inc. received $10,098 to expand their summer open community bike shop in St. Johnsbury and expand youth employment.
Northeast Kingdom Human Services, Inc. $16,008 support strategies to reduce mental health risk factors for substance abuse through education for community members, employees, and caregiver/family members.
Stable Connections, Inc. –  Eight themed weeks for youth led by an Equine Specialist and a Mental Health Professional. These themed weeks will aim to build protective factors such as coping skills, getting along well with others and understanding of self and others' emotions.
Information for FY 2022 Applicants
Important Dates for Applicants
Email Address:
Subject Line
Send by Date:
Use this subject line to:
PCE@NVRH.org
Re: PCE RFA Question
January 15, 2022 by 5:00 PM
Submit questions related to RFA
Re: PCE LOI
January 18, 2022  by 5:00 PM
Submit brief LOI
Re: PCE Application
February 10, 2022 by 5:00 PM
Submit application
What You Will Need
Download the Request for Applications (RFA):
Download the Budget and Justification Narrative Template:
New! Download the Questions and Answers:
Documents
Invoice Template – click here to download. (coming soon)
NEK PCE 2022-2024 Stategic Plan – click here to download
Advisory Committee
An Advisory Committee has been appointed to bring unique knowledge and skills and multi-sector input to the Prevention Center of Excellence Grant Project.
Members include:
Lila Bennett, Executive Director, Journey to Recovery Community Center
Michael Costa, CEO, Northern Counties Health Care, Inc.
Sheriff Jennifer L. Harlow, Orleans County Sheriff's Department
Jim Kisch, CEO, President, Passumpsic Bank
Suzanne Legare-Belcher, Field Services Director, Newport and St. Johnsbury Districts, Vermont Agency of Human Services
Chantelle Paradise, Recovery Coach, Kingdom Recovery Center
Laurna Noyes, ECSD, Deputy/SIU/Office Administrator, Essex County Sheriff's Department
Samantha Stevens, M. Ed., Equity and Community Outreach Coordinator, North Country Supervisory Union.
Responsibilities
For a description of the Advisory Committee member responsibilities, click here.
Advisory Council Timeline
Click here.
Agendas
Learn more.
Contact program managers Cheryl Chandler and Amanda Cochrane. Click here or email them at PCE@nvrh.org.